The fumigation of teacher's rancid 403(b) plans has commenced. Fire at will.
The SEC is investigating Valic, a unit of AIG, for improper sales and disclosure practices.
According to the Wall Street Journal,
The inquiry centers on whether incentives in Valic's compensation structure rewarded representatives for selling higher-cost products to retirement plan participants and whether Valic materials and representatives properly disclose the payments its representative receive on certain product sales, the people familiar with the matter said. The SEC is also looking at Valic's arrangements with school districts, in which it provides money to cover certain school expenses while also offering investment advice and products to school employees, the people said.
There are real ramifications that might shake the foundations of this entrenched old boys network of insurance peddlers.
Several high-level Valic executives were placed on administrative leave with more fallout likely to come.
In an ominous sign for the company, Valic employees are talking to the Feds.
SEC chairman, Jay Clayton, means business. "Teachers provide a tremendous service to our country. It is important that our teachers have full and fair information about fees, costs and conflicts of interest associated with their investments."
The Chairman has his work cut out for him.
Along with a few others, we have been beating this drum for years.  In a sector dominated by high-cost annuity products sold to unsuspecting teachers, Valic's actions are deplorable but not unusual.
Quite frankly, we've seen far worse. There are many additional characters tangled in this web of deceit.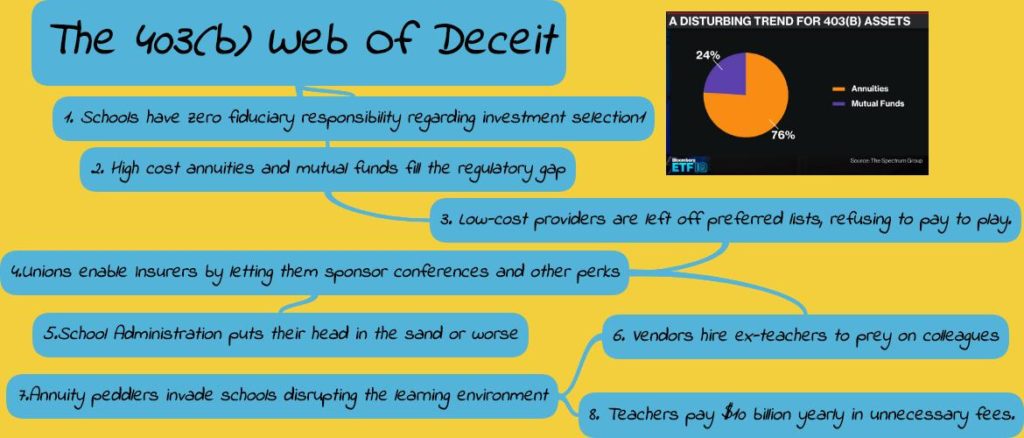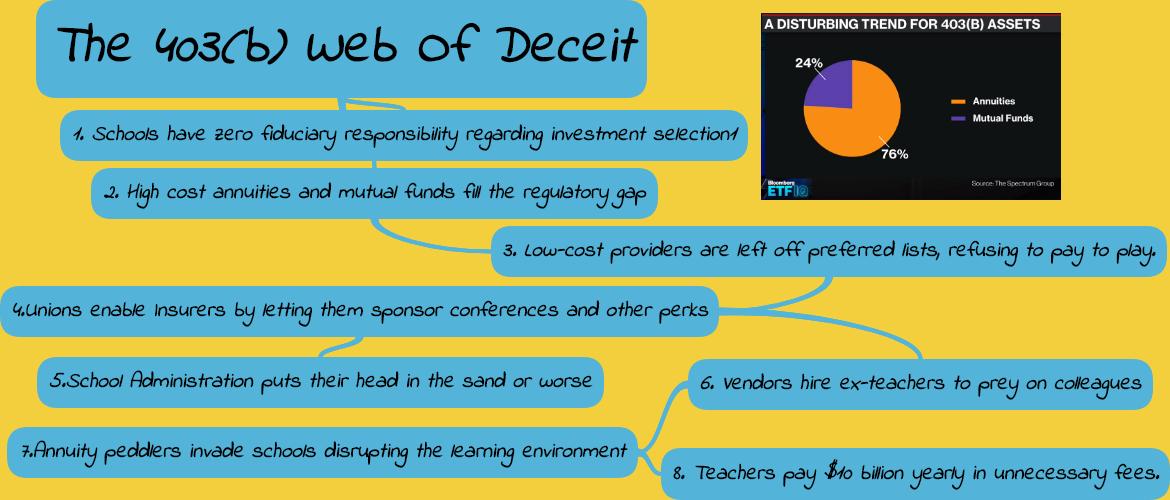 Many other companies in this space sell similar products using the same aggressive and misleading sales tactics.
There's seldom just one cockroach in the kitchen.
If there ever was an industry ripe for disruption – Teacher's 403(b) plans are the poster child.
It wouldn't surprise us to see a cascading domino effect of overdue regulation filling this space.  This initial foray into this unregulated jungle of non-disclosure is just the tip of the conflicted iceberg.
Barron's contacted me to comment on this development.
As usual, I pulled no punches.
"I think, quite frankly, there are going to be a lot more investigations to come," says Isola, who specialized in working with teachers on retirement planning. "The problem is, there's no transparency in the way salespeople are paid. It's really easy for companies to hide stuff."
Industry lawyers will do their best to deflect obfuscate the charges. This time, they might run out of ammo.
As Wez, my favorite Road Warrior character once said, " You, You can run but you can't hide."
The biggest threats to these companies business models are sunlight and transparency.
They are both about to arrive.
NY State has also jumped into the mix joining the SEC. in a double-barred response.
Large insurers better get ready to answer some very uncomfortable questions.
I don't think the regulators are going to like what they hear.
Stay tuned. This is about to get real.
It's about time.
Sources: SEC Probes AIG Unit on Retirement Products for Teachers, by Gretchen Morgenson and Anne Tergesen, The Wall Street Journal
Annuity Sales to Teachers BY AIG Are Reportedly the Subject of an SEC Probe, by Karen Hube, Barrons
 NY State Officials Open Probe on 403(b) Sales to Teachers, by Leslie Scism and Anne Tergesen, The Wall Street Journal