Doing nothing is doing something.
This applies to both money and health.
Exercise fiends trust frenetic activity helps them lose weight.
Think again. Sometimes the opposite result occurs.
Daily activity level has almost no bearing on the number of calories burnt each day. (except in extreme cases)
Our bodies perform a complicated juggling act, keeping energy burning in a narrow window. (The average adult burns about 2,500-3000 KCals daily regardless of physical activity. If you want the science details, I suggest reading the groundbreaking book, Burn by Herman Pontzer)
Pontzer studied the daily energy-burning levels between one of the last Hunter-Gatherers, The African Hadza, and American Couch Potatoes. The results were astounding. Their caloric burn rates were remarkably similar even though the Hadza's spend their days hunting Antelope and Zebra under the equatorial sun while we consume Haagen-Dazs binge watching T.V.
Our daily energy expenditure is fixed. The body works tirelessly to maintain this equilibrium.
When we exercise more, the body devotes less energy to our immune system, reproductive hormones, and stress reactivity.
That's how we stay in balance. Losing weight is impossible, only focusing on exercise and ignoring diet.
Pontzer states, "To fix the obesity crisis, we need to focus on diet and the energy we take in than on energy expenditure."
Many exercise enthusiasts think they can eat more as a reward for all the energy expended on their Pelotons.
Running  8 miles burns the equivalent of one large McDonald's milkshake.
10,000 steps are equal to drinking a 20-ounce bottle of soda.
The way to lose weight, drumroll….. Stop stuffing your face!
Consuming fewer calories than you burn is the holy grail of weight loss. Going on a Twinkie diet works. As long as you absorb fewer calories than you expend.  Numbers don't lie.
Exercise is essential for many reasons, but weight loss isn't one.
The same theory applies to investing. Stock picking, market timing, and the other usual suspects are the equivalent of empty calories.
Their allure is no different than those deployed by food companies to entice us to consume more calories than we need. They sabotage our bodies' finely tuned regulatory system that keeps our intake/outtake in harmony.
Pontzer explains: "Flavor engineering is a multibillion-dollar industry, with teams of scientists using a mind-boggling array of techniques and additives to make highly palatable food without being satiating: foods that always leave you wanting more. These foods are designed to circumvent the brain's evolved system of reward and satiety. In addition to adding fat and sugar, chemical flavorings are focus group tested until they find an irresistible mixture." 
Investors face a similar army of darkness, looking to trick and distract them from reaching their financial goals.
Deploying too much energy won't help you reach your financial goals. It could hinder them.
Doing little more than spending a scant amount of calories buying a simple, low-cost target-date fund is a far more effective strategy for most investors.
There is a group of calories well worth burning to their fullest capacity.
Finding a job with a strong career path and constantly updating your skillset is energy well spent. Getting this done ASAP is even better.
Making more means having the ability to save more. Math wins again.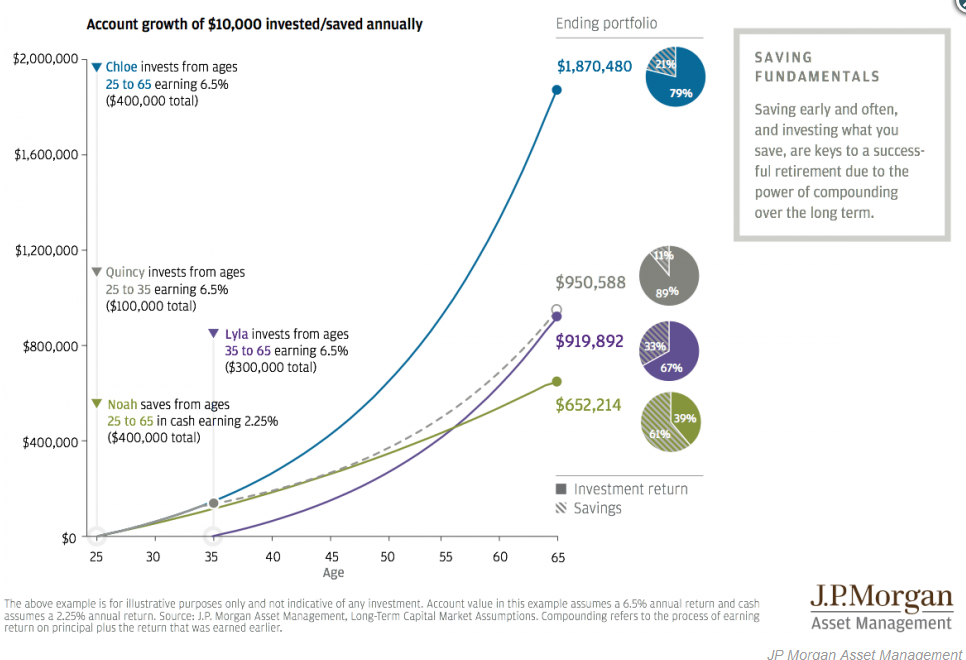 Like your diet, you need to know what strategies work best for your financial goals.
The choice is clear; focus less on tinkering with your portfolio and more on the increasing potential earnings and savings power.
Our diets and the financial landscape are filled with temptation.
Giving in to both isn't an option for your body or net worth.