Making a major purchase without transparent information is an accident waiting to happen.
Most parents are flying blind regarding the college admissions process.
Like any other business, maximizing revenue takes precedence.
In this case, your child is the product.
Before plunking down a quarter of a million dollars or more, it's important to know these ten facts regarding the big business of college admissions.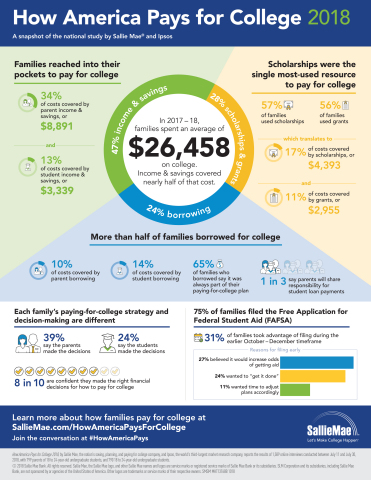 Filling out the FAFSA form is imperative. Without doing this, your child isn't eligible for low-cost government Stafford Loans or Merit Aid. Merit Aid has nothing to do with students/parents' assets or income. Millionaires are eligible. You're not if you don't fill out the form. Don't listen to misinformed friends or neighbors saying your too rich to receive aid. They're 100% wrong.
The best way to keep costs down is to graduate in four years or less. Unfortunately, only 41% of students accomplish this. Over 33% of students transfer their first year, increasing the time needed to graduate. Do your homework. Make sure the school your child picks is right for them. Your pocketbook will thank you later.
Student loans are the only major purchase NOT subject to third-party approval. Cars and homes include restrictions on borrowing limits. Student loans are free for all, with many conflicted colleges and unsavory lenders egging on uninformed parents and students into unsustainable red ink. Create a budget ahead of time and avoid the perils of too much student debt.
 According to a FINRA study, 70% of graduates say they would've made a different decision if they knew more about the admissions process before applying to college. Financial literacy is the most vital part of students' education. Learn as much as you can about debt and budgeting as early as possible.
Not all college award letters are created equal. Colleges include self-help financial aid in their packages. This includes debt and work-study. It's much better to take a package containing grants that don't need to be repaid.
Private scholarships are often misused. They can reduce college need-based aid dollar for dollar. They may only include one-time payments instead of ongoing ones. Please choose carefully when accepting private scholarships and fully understand their impact on the college award letters.
Federal loan programs have annual and lifetime limits. If you decide against taking these loans one year, the potential to maximize this source of cheap funding is permanently reduced. This is the cheapest way to finance college with superior repayment programs. Make sure you maximize your federal student loan eligibility before incurring any other debt.
Direct gifts from grandparents can reduce need-based college aid funds dollar for dollar. This includes direct payments to the college or distributions from grandparent-owned 529 plans. It might be better to wait until junior or senior year to use these funds due to the Prior-Prior Year Rule.
Private Student and Parent Plus Loans need to be cosigned by a parent. Before agreeing to these terms,  understand parents are on the hook if your child can't repay their obligations. It's not easy getting out of these contracts. Make sure you're not jeopardizing your own retirement by borrowing too much.
Don't take out more debt than your expected first-year salary. This is a good rule of thumb when thinking about borrowing limitations. Though there are income-based repayment options available, it's not a good idea to borrow $150,000 when your starting salary is $30,000.
Let this be your beginning guide to avoiding blowing up your child's future or your retirement before they start.  Funding college is most likely the most expensive financial decision you and your child will make during the course of your lifetimes. If you don't take control of this process, who will?