Start with two million.
A 50% loss doesn't sound so bad. Many day traders end up vaporizing considerably more.
A client asked what I thought about him pulling 10K out of his portfolio for some "fun money" for some daily speculating.
When people ask this kind of stuff, they get an honest answer. Not what they want to hear.
"Go ahead; it's your money, so you can do as you please. If you want my honest opinion, it's a hard no."
I continued. "I'm not going to start a dental practice because I don't know anything about root canals and such. It would be a danger to myself and those around me. You know just as much about day trading as I know about dentistry."
Not liking throwing cold water on others' fun, I presented an alternative. "Why not take this money and go to Las Vegas when the Pandemic ends? You would have more fun, maybe get comped a room, drinks, dinners, and entertainment. Your odds of success are at least the same, and I think you could at least enjoy yourself while losing money."
They liked this idea. We went on to speak about more important matters.
After trading currencies professionally, I have some first-hand experience in this matter.
Working for a Swiss and then Austrian Bank, I was in charge of trading the Japanese Yen.
We had no edge.
The big exporters would come in and place trades with fellow Japanese Banks. Things would be going well until they didn't. The Japanese Banks always knew the market's direction because of their customers. We didn't and would regularly get smoked.
This was despite having the latest in technology and working at the job 12 hours a day.
What edge do YOU have as an amateur day trader?
Are you going to hire drones to fly over the parking lots of Home Depot and other retailers and use this information to predict their earnings?
How about paying millions of dollars to doctors as expert witnesses to determine the latest potential blockbuster drugs' efficacy?
Do you have money in your budget to pay Robinhood to see their daytraders order follow so you can front fun their trades?
This is some of the stuff professionals employ in their arsenals.
The probability of losing money in this endeavor is off the charts.
The White Coat Investor provided some data found in a Brazilian study to back up this claim.
We show that it is virtually impossible for individuals to day trade for a living, contrary to what course providers claim. We observe all individuals who began to day trade between 2013 and 2015 in the Brazilian equity futures market, the third in terms of volume globally. We find that 97% of all individuals who persisted for more than 300 days lost money.
Another study from Taiwan displayed almost identical data.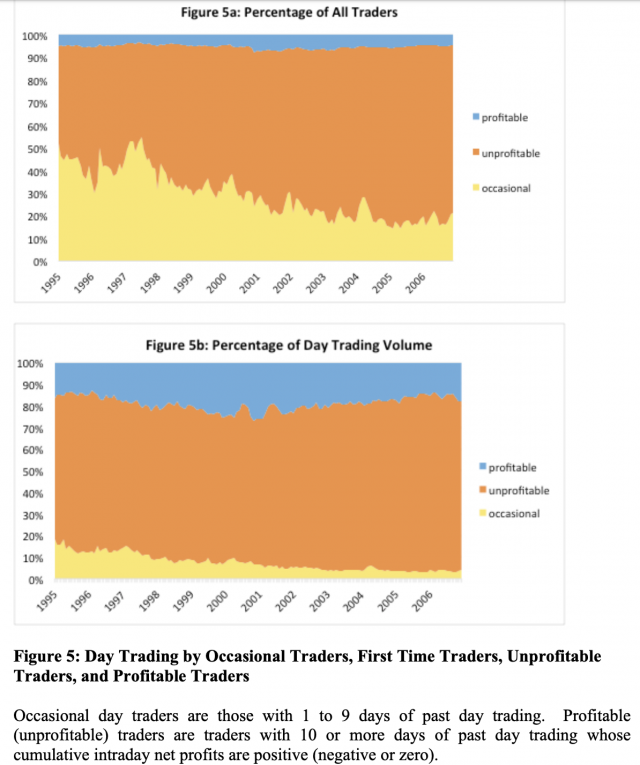 The funny thing is we ignore our true edge, the value of regularly contributing money to a low-cost global portfolio comprised of diversified stock and bond index funds.
This is your steel fortress-like trading algorithm for investing success.
Your best day trading strategy is – Don't do it!
My colleague Josh Brown sums this up beautifully.
The good news is that you don't need to play Goliath's game as ill-equipped as you are to play it. Your game is actually a higher probability one. It's winnable. People are winning it all the time. 
It's hard to win a game if you don't know the rules.
Fortunately, there is a straightforward and winnable long-term investing game out there.
The only way to taste defeat in this arena is not participating.
Source: Why You Should Not Day Trade, The White Coat Investor