Don't be bashful about asking colleges for help.
The Coronavirus turned the world of college financial aid upside down.
Typically, schools use complex algorithms to maximize their profits while handing out funds to incoming first-year students.
There are more questions than answers embedded in their models.
How many families will change their original decisions by choosing another school?
Will students think this is the perfect opportunity to embark on a gap year?
How will parents value the price of a "virtual" school?
These questions are unanswerable but may provide positive feedback on the college aid front.
The key-word for the new pandemic college application process is flexibility.
Ron Lieber of the New York Times gives some terrific advice on this subject.
Be flexible. There is no telling how much maneuvering any given school might want or need to do in the coming days. Families should ask for more help and then ask again. They should also be open to considering whether the school they've picked is so perfect if another comes with a better offer.
Schools aren't tone-deaf to the financial mayhem facing many of their customers. They're providing advice on their websites, providing much-needed clarification on the types of changes in your financial situation needed to give the best chance of a successful appeal.
The University of Denver provides a model for other schools to emulate.
Unfortunately, there's been a drop off in financial aid applications. The decline is most likely due to financial priorities from families dealing with massive unemployment rates and other monetary hardships.
Before the crisis, less than 50% of Americans filed for financial aid.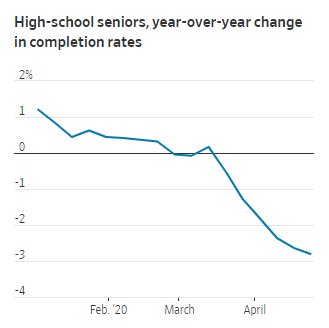 Source: Wall Street Journal
Get your Appeals done ASAP since funds are limited.
Relevant supporting documentation is necessary.
According to The Wall Street Journal, these include:
Supporting documents can include things like bills, signed letters from caregivers or medical providers, court documents, termination letters, proof of unemployment benefits, final pay stubs, and out-of-pocket repair costs after a natural disaster, she says.
Educate To Career, a non-profit assists families with college planning. They have an online tool, the College Tuition Negotiator, that helps with this task.
SwiftStudent provides a free site helping students and their parents who are seeking adjustments to financial aid packages.
Many scholarship programs extended their deadlines giving students more opportunities to apply. May 1 is traditionally a decision day for college acceptance. Most schools are now looking at June 1 or later.
There's always a bright side to bad stuff. Many schools are falling well short of this year's goals of adding new students. Low attendance helps newcomers in two ways. First, High School seniors may be on the receiving end of unexpected grants or other types of financial aid. College is a business and is subject to the iron laws of supply and demand like all its competitors.
Second, you may be eligible for a school that was previously root of reach in the pre-pandemic world. Not only might you be suitable, but tuition discounts and other perks may be awaiting.
Don't let the crisis go to waste.
Ask, and you just might receive more than you thought possible.