Beanie Babies, Pokemon Cards, CryptoKitties???
How about Tulips?
Tulips are very beautiful but bloom for only a week. If the weather gets into the '80s during the early spring, make that a day!
Squirrels tend to dig up and devour them in the fall unless you put hot pepper into the hole as psychopaths like myself do.
If I had to choose a flower to get rich quickly with, Tulips wouldn't be on the list.
A bunch of wealthy medieval Dutch people would disagree.
Gordon Gekko opined on this in the film Wall Street.
"Back in the 1600s, the Dutch got speculations fever—to the point where you could buy a beautiful house by the canal in Amsterdam for the price of one bulb. They called it tulipmania."
Some crazy stories emerged from the 1600s regarding Tulips.
One poor soul supposedly mistook his bulb for an onion and consumed his entire net worth!
Maybe he was related to that guy who lost his Bitcoin password?
Many tales were exaggerated. Regardless, it was a crazy time with many parallels to today's speculative follies.
During the pandemic, speculation is surging. Many are addicted to sports gambling and day trading stocks. Interest in digital currencies and NFTs exploded.
Distressed companies soar in value based on the activities of traders gathering on internet message boards.
NBA Top Shot has fans waiting in line to pay thousands of dollars for digital videos of their favorite players. The site has its own min-stock market to complete transactions.
Why are people engaging in these activities?
They're bored. Sheltering in place has long past its shelf life. Speculation serves as an outlet to Pre-Covid life.
Stimulus checks added gasoline to the fire. With another round just shipped out, the party's not over – yet.
Getting back to 16th century Tulip bulbs, the more things change, the more they stay the same.
Back then, there was a different form of stimulus. It was called dying.
The 1630's plague was instrumental in the rocket ship ride of this rare flower.
According to Barron's:
"There were people who had a bit more cash because they had acquired some extra money from relatives who died."
Rich people had more disposable income, and they spent it on Tulips.
Unlike today's sheltered-in-place day traders, Tulip participants were members of the aristocracy.
When the inevitable crash ravaged the market, contrary to popular belief, the Dutch economy was barely impacted.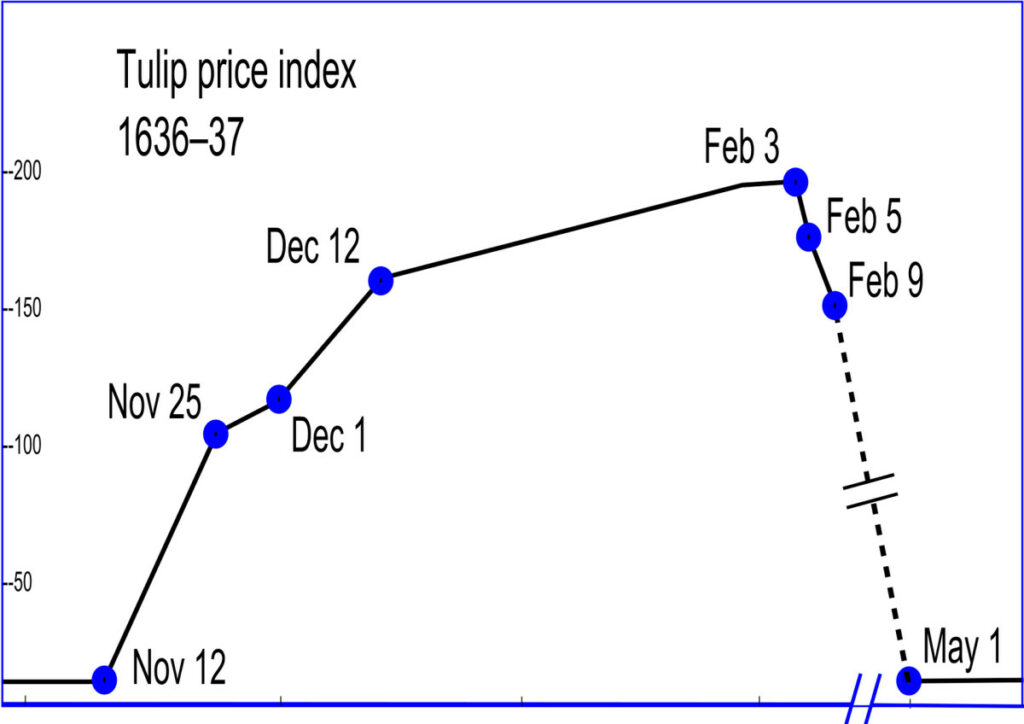 The rich became a little less rich.
Historian Anne Goldgar points out. The 16th century wasn't much different from the hype surrounding today's celebrity-fueled SPACs.
"Tulips were something that was fashionable, and people pay for fashion. The apparent ridiculousness of it was played up at the time to make fun of the people who didn't succeed."
We hear many of the same arguments about today's crypto-currency and NFT speculators.
The greatest shock to Dutch society wasn't monetary but social.
"It was abhorrent to think people could rise in society through speculation and not hard work or lineage." 
As far as today's digital collectibles, the jury is still out.
My colleague, Josh Brown, has some sage advice for young people looking to get rich quickly.
Get out of the house. Leave home. Go outside. Get off the internet. Stop scrolling, stop gaming, stop trading, stop making fucking memes. Stop collecting things that don't function and will, with the passage of just a year or two, become completely laughable. Nobody's going to want to buy any of this stuff from you because they're going to make 70 billion versions of everything you're buying now. It's artists today, but eventually, it will be corporations. They will sell you limited edition Ziploc bags filled with air if you demonstrate a willingness to buy it from them.
Translation – Don't quit your day job.