Parent's will do just about anything for their children.
Their biggest fear – their kids dropping out of the middle/upper class.
The College Board is well aware of this. They exploit their biggest worry to the fullest.
Don't buy what the Board's selling.
The Board is selling test-takers names and personal information to universities.
The SAT and ACT have become cash cows to the detriment of our children.
1,900 schools buy approximately 2- 2.5 million names annually.
This practice started in 1972 but exploded in recent years.
Charging 47 cents per name to prestigious universities, the college board profits while exploiting our children.
They're ripping the hearts out of many hard-working students.
College prospects receive solicitations from top-rated schools for the purpose of  – being rejected!
The Wall Street Journal tells describes the tale of one young woman.
"A lot of the rejections came on the same day," said Ms Johnson, a 21-year-old senior film major at New York University, one of three schools that accepted her out of 10 applications. "I just stared at my computer and cried"
Why would schools purposefully recruit students in order to reject them?
The answer, national rankings, reputation, and most importantly –  justification for their egregious tuition.
The recruitment pitches didn't help Ms Johnson, but they did benefit the universities that sent them. Colleges rise in national rankings and reputation when they show data suggesting they are more selective. They can do that by rejecting more applicants, whether or not those candidates ever stood a chance. Some applicants, in effect, become unknowing pawns.
High rejection rates make expensive colleges look more attractive. Think of this as the school's version of the "velvet rope" effect.
When people can't have something, they want it that much more.
Not only are parents and students dealing with rising tuition, but psychological warfare has also joined the fray.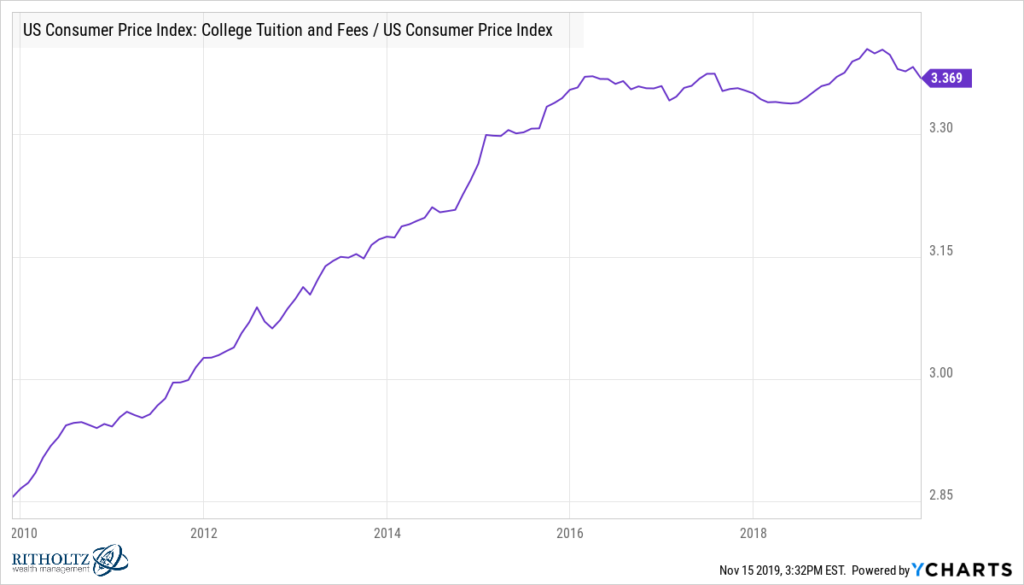 School need exponential denominator growth in the quest for exclusivity. Their formula is pretty simple. Few acceptances flowing into the numerator, plenty of candidates for the application denominator.
The Journal states, "The top 10% of universities don't need to do this. They are buying some student's names who don't have a great chance of getting in."
Nice.
For example, Vanderbilt's admission rate dropped to 11% in 2017 from 46% in 2002. The chart below displays Vanderbilt is the rule rather than the exception for elite schools.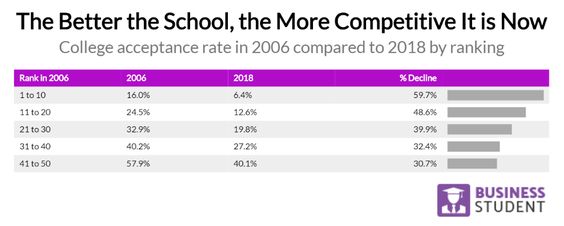 If the goal of these schools is turning up anxiety levels in the application process, this program is a smashing success.
Many schools steer away from standardized test scores. Implementing a more holistic approach is the new trend.
While a noble goal, data selling bastardizes this goal by allowing schools to secretly see applicants grades without their knowledge.
Leonie Haimson, the co-chair of an advocacy group critical of the college board, agrees. "Disseminating the data may harm a students' chance of getting into college. If a student performs poorly on the SAT and a school buys the test taker's data, the school will know the approximate score even if it is a test-optional school." 
Schools needing an insurance policy flock to this program. Many students are submitting more and more applications. This increases the chances of prized applicants leaving some prestigious universities at the altar.
Some states have laws prohibiting the sale of student data. The College Board insists they are above the law. "This is not applicable to the Student Search Service."
It doesn't seem fair that prestigious school are conspiring with the board in a partnership that benefits them but hurts students.
Dousing the dreams of young people in order to increase exclusivity is crossing a moral bridge too far.
If you think high priced schools are all about "education" – I have a tax-deferred variable annuity to sell you in your tax-deferred 403(b).
Source: The Wall Street Journal, For Sale: SAT-Takers' Names. Colleges Buy Student Data and Boost Exclusivity by Douglas Belkin