Investing isn't like fantasy football.
More choices don't mean more wins.
Too many options are a losing strategy.
Using this reasoning, good 401(K) sponsors spend time focusing on providing one low-cost vendor for employees.
Companies like Apple and Google follow this winning formula.
Teacher's 403(b) plans choose the opposite track.
Focusing on quantity leads to disastrous results.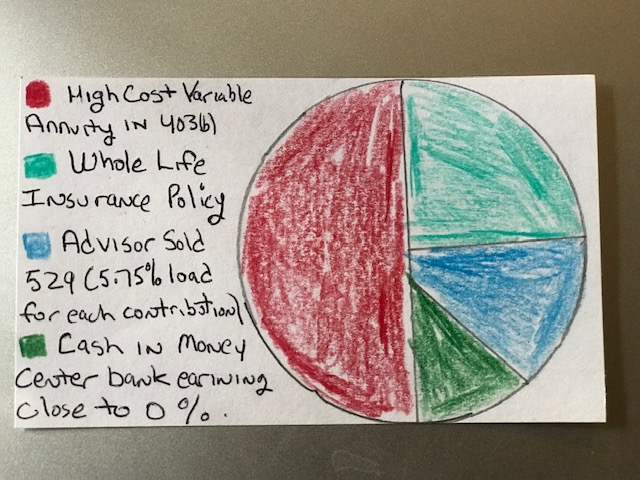 Source: My own horrific graphic design skills
My friend, Dan Otter sums it up perfectly.
I have written it before and I'll write it again: If the multi-vendor approach was the best retirement plan practice the private sector would adopt if for the 401(k). Apple Computer has one 401(k) vendor while Redlands Unified School District in California has 44 403(b) vendors (!), the overwhelming majority of which are high fee insurance products pushed by sales agents
Experts at exporting junk science incessantly hammer the value of multiple 403(b) vendors. All reputable data vehemently refutes this outrageous concept.
Organizations like the NTSA, a lobbying agent for commission-based sales agents are leading the charge. Spreading this propaganda to vulnerable public school teachers.
When the organization puts out "education" guides, "research" reports, and other material, its goal is to advance the interests of sales agents. It is not to serve the financial interests of teachers and school districts.
NTSA broadcasts this preposterous notion.
"Maintaining a Multi-Vendor Environment" belongs at the top of this list entitled Opportunities to Enhance 403(b) plans.
(1) Maintaining a Multi-Vendor Environment
(2) Increasing Participant Access to an Advisor
(3) Auto-Enrollment
(4) Match Programs
(5) Retirement Education Programs
(6) Special Pay Plans
Lobbying to maintain the multi-vendor status quo despite a 27.13% participation rate among teachers is the definition of insanity.
In the words of Carl Richards, "Lying and calling it marketing….is still lying. It doesn't really matter how many other people are doing it."
Imagine trying to hire a contractor for a home improvement project and not being allowed to choose the option containing the best price and value.
The multi-vendor 403(b) system virtually guarantees the most inferior choices win the majority of the contracts.
Why?
Funded by egregious fees, the most expensive, low-quality vendors can afford to send armies of conflicted salespeople into schools.
Where can teachers interested in truth rather than propaganda go?
My Friends Dan Otter and Scott Dauenhauer recently relaunched 403bwise. The new link is 403bwise.org
403bwise is now a 501(c)(3) non-profit organization. This came about due to the generous support of Tim Ranzetta, the founder of the hugely successful financial literacy company Next Gen Personal Finance
Dan left his job at the University of New Mexico, throwing all of his energies into saving teachers from financial predators and educating them about their finances. Though the site has been featured in many prominent outlets like The NY Times, much bigger things lay ahead.
The new site has many interactive features and provides numerous ways to get involved in the cause.
The current 403(b) system is broken, due to the asymmetrical flow of information. Organizations like NTSA shouldn't be providing "Research" on making improvements when they're a major part of the problem
Radio Free Europe has arrived for K-12 teachers.
Tune into this pirate satellite orbiting the vast space of financial miscreants.
Join us in tearing down the conflicted wall of deceit Insurers and Brokers constructed around public school teacher's 403(b) plans.
44-1 is a losing score in this game.