Following investment advice from an infomercial might be a form of financial suicide. It's even worse when your advisor bases your retirement plan on its sponsored content.
Tommy Vu set the bar very high with his 1990's shtick. Before being shut down by the Feds, he became a legend in real estate schemes. His formula for success included the following:
Disdain for the intelligence of his audience;
Speedboats with lots of women in bikinis; and
Desecration of the English language.
If you don't believe me, watch this.
The wasteland, that is also known as public school teachers' non-ERISA 403(b) retirement plans, has spawned annuity versions of bad 1990's financial infomercials, complete with terrible grammar to boot.
The most recent example comes from this Florida company.
(Just for kicks, count how many grammatical mistakes you can find in this nauseating pitch to recruit financial agents to prey on teachers.)
My friend Scott Dauenhauer sent me this. If it weren't for his dedication to his impressive talents as an advisor, he might have had a successful career as a C.I.A. agent.
There are tons of teachers in every state.  Financial agents lacking any semblance of a moral compass can sell them annuities and whole-life insurance policies and make a boatload of money.  In addition, there are some awesome travel benefits!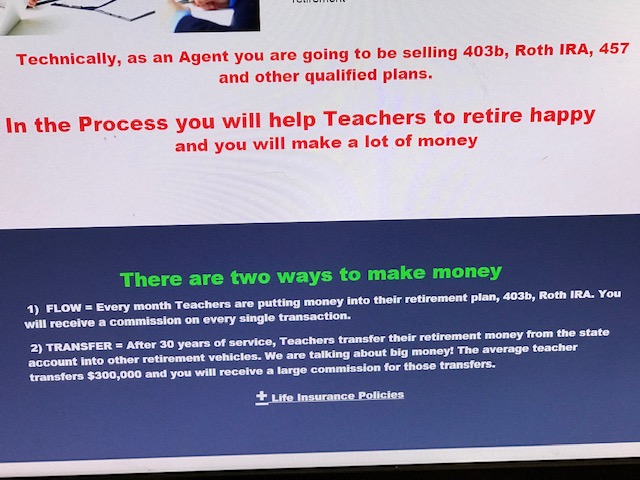 The way to fleece teachers and earn high commissions is to receive payments on every transaction; translation: earn hefty fees for bi-weekly paycheck contributions. Combine this with juicy premiums from inappropriate whole-life insurance policies and we have a recipe for mass financial exploitation.
After 30 years, the whole exploitation thing is restarted. By instructing retiring teachers/school staff to rollover the whole larger sum into a new annuity, these salespeople get to collect even bigger commissions as a reward for selling financial crap to vulnerable school employees.
As stated in the ad, the average teacher transfers $300,000 upon retirement. An 8-10% annuity commission results in an enormous single transaction payday – the kind Tommy Vu bragged about (but even better, because there are no Feds to worry about). The S.E.C. doesn't regulate annuity products. The Harkin Amendment guaranteed this.
This is just like shooting fish in a barrel.  Where else can twenty or more toxic financial products be sold in one day?  Schools are the equivalent of a stocked trout pond.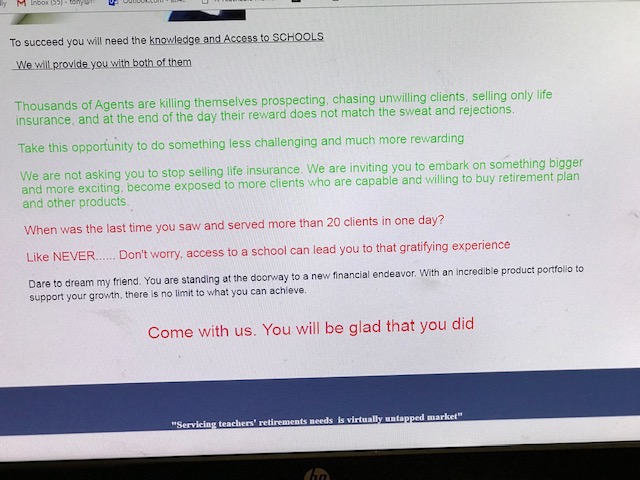 Is it any wonder that studies have estimated that this market generates over $10 billion in unnecessary investment fees annually?
According to Dan Otter, in the Los Angeles Unified School District or LAUSD, it is estimated that 60% of 403(b) accounts hold indexed annuities while 50% of all new contributions go into these expensive, complicated, and illiquid products.
While normally a 25-30% contribution rate to a retirement plan is viewed as an epic fail, for teachers' 403(b) plans it's a blessing.
Our nation's K-12 school employees are sold products that would have a hard time getting on the Home Shopping Network, never mind occupying prime real estate in an investment portfolio.
Companies like this infect all 50 states.
Paid infomercials should be relegated to late-night shrieking about abs of steel, snuggies, and Vince with his Slap Chop.
Teachers and their retirement plans need and deserve prime-time treatment.