Imagine if Americans had a retirement pyramid on their refrigerator.  We would all be wealthier and healthier.
Sadly, we have a food pyramid (which most of us ignore) but no evidence-based guidelines for our retirements.
According to  The Wall Street Journal, an astounding 80 million Americans are in debt collection and 50% of retirement workers have next to nothing saved.
In the words of Benjamin Harris,
"One option is for a public agency to create a tool for consumers. Several years ago, my colleague William Gale, now at the Brooking Institution,  and I proposed a financial graphic to help guide financial decisions and direct Americans to unbiased resources. We reasoned that, just as Americans were reminded by a food pyramid to eat some fruits and vegetables with every meal, a financial graphic could similarly guide households to save monthly for retirement or to avoid over-investing in their own employer's stock."
I thought that was an excellent idea.  Here is my version: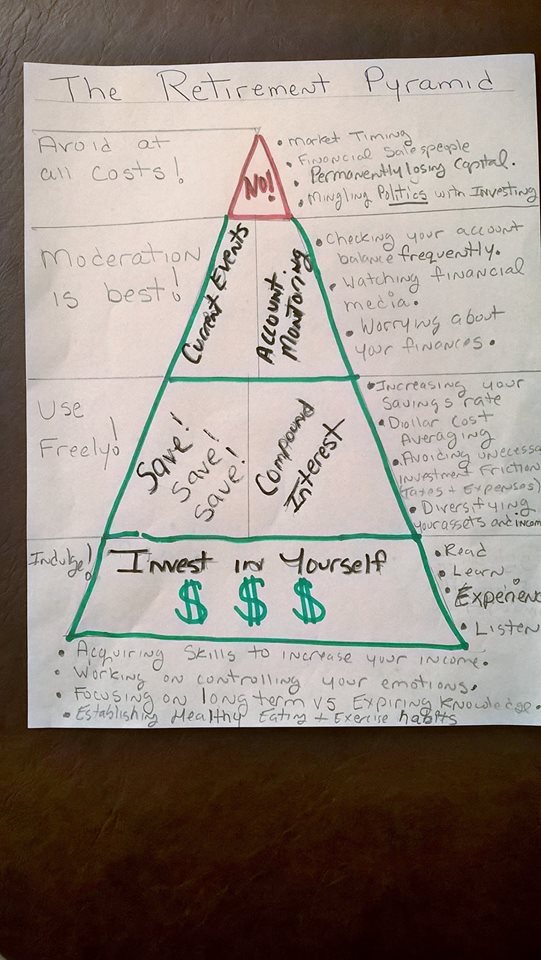 I am certain there are more artistic types out there who could design a better layout. God knows the penmanship could stand some improvement, but you get the point.
Americans have no guidelines to make the right choices for their finances. This pyramid is a step in the right direction.
Feel free to share.
Source: "Americans Should Be More Financially Literate. But What Does That Mean?" by Benjamin Harris, The Wall Street Journal, May 6, 2018.