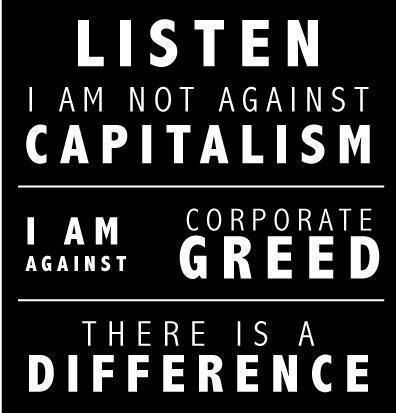 Some corporations are getting away with murder, literally.
It is an undisputed fact that financial executives avoided the "perp walk" despite coming perilously close to blowing up the financial system due to their unabashed greed and stupidity.
According to my colleague, Barry Ritholtz: "After much research, I have come to believe that at the highest levels of government, the financial industry managed to convince prosecutors that it was against societal interests to bust bankers. The revolving door between government and the private sector, between regulators and regulated figures in this. If you're a prosecutor, but you might like a big payday from business, do you really want to go hard on the companies that might offer you a job one day?"
We can add certain drug distributors to this corporate hall of shame. According to a shocking story on 60 Minutes, McKesson Corporation is feeding the opioid crisis that is devastating communities throughout our country.
"They're killing people. And their motive? This is all for financial gain. That's the problem," according to David Schiller, a former DEA investigator.
McKesson, the country's largest legal drug distributor is accused of flooding the market with highly addictive and lethal painkillers.
Schiller accuses McKesson of blatantly violating DEA requirements, "They were providing millions and millions and millions of pills to countless pharmacies throughout the United States, and they did not maintain any sort of due diligence."
"The DEA requires drug distributors to identify, stop and report orders of unusual size or frequency to the agency; something Schiller says McKesson did not do until the company learned it was under investigation."
"In one case, DEA investigators discovered that McKesson was shipping the same quantities of opioid pills to small-town pharmacies in Colorado's San Luis Valley as it would typically ship to large drugstores next to big city medical centers."
According to Helen Kaupang, a retired DEA Investigator, "McKesson is supplying enough pills to that community to give every man woman and child a monthly dose of 30 to 60 tablets. Is that not shocking? I found it shocking."
Kaupang accuses McKesson of manipulating and exploiting DEA rules.
"To get around reporting suspiciously large orders, at the time, McKesson would simply raise the limit a pharmacy was allowed. No order, no matter how large, was ever reported as suspicious."
They rigged the system. Does this remind anyone of the mortgage market of a few years ago? There is one huge difference: The Great Recession did not kill hundreds of thousands of people with illegally prescribed opioids.
The DEA investigators created a strong criminal case against McKesson. This included a billion dollar fine, revoking their license to distribute controlled substances and, most important, putting a McKesson executive behind bars.
These harsh penalties were designed to send a sharp warning to the rest of the pharmaceutical industry. Play by the rules or else.
What happened?
The DEA lawyers backed down.
They were intimidated by the giant corporation. They feared McKesson's highly paid legal team.
According to Schiller, "They told me those exact words, because the case would take too much time and too much effort and, by the way [the lawyers said]  'What if we lost?' I said, 'What if you lost?' I go, 'You– you can't have a better case on a silver platter.'"
In the end,  the company was fined $150 million. Putting this into perspective, John Hammergren's compensation was $100 million last year. Sigh!
Expect to see more of these type of settlements in the future. Not just from the pharmaceutical industry but from other corporate giants.
The new tax legislation overwhelmingly benefits large corporations, like McKesson. The central part of the law is to lower the corporate tax rate from 35% to 21%
The narrative goes: Companies will use these cuts to increase workers' salaries and invest in their respective businesses. The so-called "trickle-down" effect.
Critics argue it's more like "trickle up." The tax savings will be used to buy back company shares to increase share price and reward management with huge bonuses.
They will also boost dividends, which benefit the 10% of the population that owns 80% of stocks in the U.S.
My bet is that this recent financial windfall will increase corporations' power and profits and give them more influence than they already have over our legislative system.  In turn, this provides a more lucrative environment for current government regulators to leave their positions and work for those they were hired to regulate, intensifying regulatory capture.
More money, more lawyers.
More money, more opioids.
More money, more pollution.
More money, more bad financial products.
More slaps on the wrists, zero jail time.
Would we be treated with the same leniency if we sold drugs or committed other similar felonies?
The answer explains everything wrong with the current system that's about to get much worse.
Source: 60 Minutes