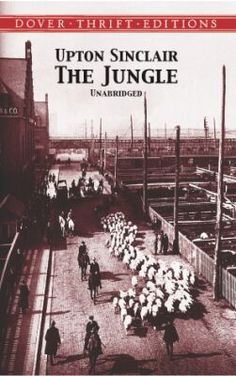 "The great corporation which employed you lied to you, and lied to the whole country — from top to bottom it was nothing but one gigantic lie."  – Upton Sinclair, The Jungle
Many investors roam dangerous grounds as financially illiterate prey in a jungle teeming with salespeople disguised as real financial advisors.
Upton Sinclair, one of the most famous Gilded Age Muckrakers, wrote The Jungle to make people aware of the horrid working and living conditions of the urban poor.
Unknowingly, he unleashed a furious outcry against something much different: How the public's sausages were made!
This disgusting process was revealed in all its grossness in just a small part of his 350-page book. It was enough to cause President Teddy Roosevelt to immediately call for the creation of the Food and Drug Administration and the passage by Congress of the Meat Inspection Act.
In the words of Sinclair, "I aimed at the public's heart, and by accident I hit it in the stomach."
Personally, this material was pure gold for me when I taught 8th grade American History. Historically, "Taco Tuesday" or some other "meat surprise" on the menu was the ideal time to go over this topic.
The best classes were before lunch, when I was able to read some nauseating excerpts from Sinclair's book. Sometimes, I think I personally made the Vegan movement cool.
"There was never the least attention paid to what was cut up for sausage; there would come all the way back from Europe old sausage that had been rejected, and that was moldy and white – it would be doused with borax and glycerin and dumped into the hoppers."
"There would be meat that had tumbled out on the floor, in the dirt and sawdust, where the workers had tramped and spit uncounted billions of germs. There would be meat stored in great piles in rooms and thousands of rats would race about on it. A man could run his hand over these piles of meat and sweep off dried piles of dung. The rats were nuisances, and the packers would put poisoned bread out for them, they would die and then rats, bread, and meat would go into the hoppers together."
Last week I was in a local middle school talking to some teachers about their 403(b) plans. This experience led me to a flashback back to Sinclair's words of warning.
I realized these teachers have no idea how their investment sausages are being made. The process is just as disgusting as the filthy slaughter houses of a century before.
Instead of cows being led to brutal slaughter, it is the retirement plans of public school teachers that are being placed on the executioner's block.
One teacher I met with valiantly switched out of his high-cost annuity and moved to another company in search of a more sanitized investment process.
After listening to his tale of woe, I took a look at his current statement. Rat dung would be a kind word for what I observed.
In addition to a 1% asset under management fee, there was a portfolio of high-cost, actively managed funds that averaged around 1.5% or so in expenses.
Each time this teacher made a salary contribution about 5% was skimmed of the top since all of the funds he owned were of the "Class A" variety.
The coup de grace was in his children's 529 funds. Originally he had them in New York's low cost, self-directed plan. On the advice of his "advisor", they were transferred to the broker-sold version which comes with a 5% deduction with every monthly contribution, in addition to high-fee mutual funds.
I am sure he is not the only one in this school who has been victimized. When I am done, I will have financial stories of greed, and unsanitary conditions that would make Sinclair wince.
Just like the Gilded Age, people are being misled, lied to, and fed poisonous investment products instead of food.
While Teddy Roosevelt was able to quickly act to confront this public health hazard, it seems the discoveries of investment "rat sausages" are not having a comparable effect.
In fact, the new Department of Labor Fiduciary rule does not even apply to most 403(b) plans!
I am hoping the collateral damage of ravaging the college funds of teachers' children will have a similar effect as the minor portion of Sinclair's book that dealt with the nation's breakfast, lunch and dinner.
I am not holding my breath.
Exposing sausage-making is very unpleasant. In the modern era, technology and slick marketing have replaced putrid pork.  One thing does remain the same; these ingredients are timeless for their powers of deception.
Hidden fees, lies, political corruption, corner cutting, and unabashed greed all rear their ugly heads a century later. The setting has changed but the process has not.
In the words of Sinclair, "Wall Street had been doing business with pieces of paper; and now someone asked for a dollar, and it was discovered the dollar had been mislaid."
Source: The Jungle by Upton Sinclair