People hate paying taxes.
The majority agree upon a few things in our polarized world, with a few exceptions. Despising taxes are one of those things.
Like anything else, our perceptions shape our beliefs. Reality is often absent from the picture.
Alabama football coach Nick Saban offers an outside-the-box opinion concerning certain forms of taxes. Saban isn't speaking about his annual property, sales, or federal income taxes. The focus is on a higher calling – Success.
Alabama is a perennial SEC college football powerhouse. Winning national championships runs in their DNA. 2022 was considered a disappointing season. They lost two games and didn't qualify for the College Football Playoffs. The haters came out in force.
Saban didn't become defensive; blame his assistants or the players. He took the abuse as a compliment. When asked about his reaction to the outside negativity and criticism, Saban provided this retort.
"Criticism is a tax on success. If you're getting criticized, appreciate it. It means you're winning more than you're losing. No one criticizes the underdog, the eight-seed, the perennial loser. Don't let that [criticism] get you down. Enjoy it. You've earned it."
Perception matters – A Lot.
Applying this analogy to our finances, career, relationships, and health is worth your time.
Let's look at the current Bear Market in both stocks and bonds. It's no fun watching your portfolio shrink. We can't control the markets, but we can control our reactivity.
The current market is the perfect environment to apply Saban's tax on success mantra. How about focusing on the bountiful past decade, which created the gains in the first place?
My Colleague, Ben Carlson, a former High School football player himself, echoes Saban's approach:
"This year has been terrible for a diversified mix of stocks and bonds, but if we zoom out, the returns coming into this year were lights out for a 60/40 portfolio.
In the 3, 5, and 10 years ending in 2021, a 60/40 portfolio of U.S. stocks and bonds were up 63%, 81%, and 184%, respectively.2
Even if we include this year's 15% or so loss in the 60/40, the past ten years have given investors 8% per year in this strategy.
The good has far outweighed the bad, which is usually how it works in the financial markets.
The bad years are no fun, but the good decades tend to do more than makeup for it.
Losing a large chunk of your life savings is never a good time, but investors need to realize their portfolio values wouldn't be so high in the first place if it weren't for the bull market that led up to these challenging times."
Bad times are magnified because they're rare. This year's routing of the standard 60/40 portfolio is a prime example.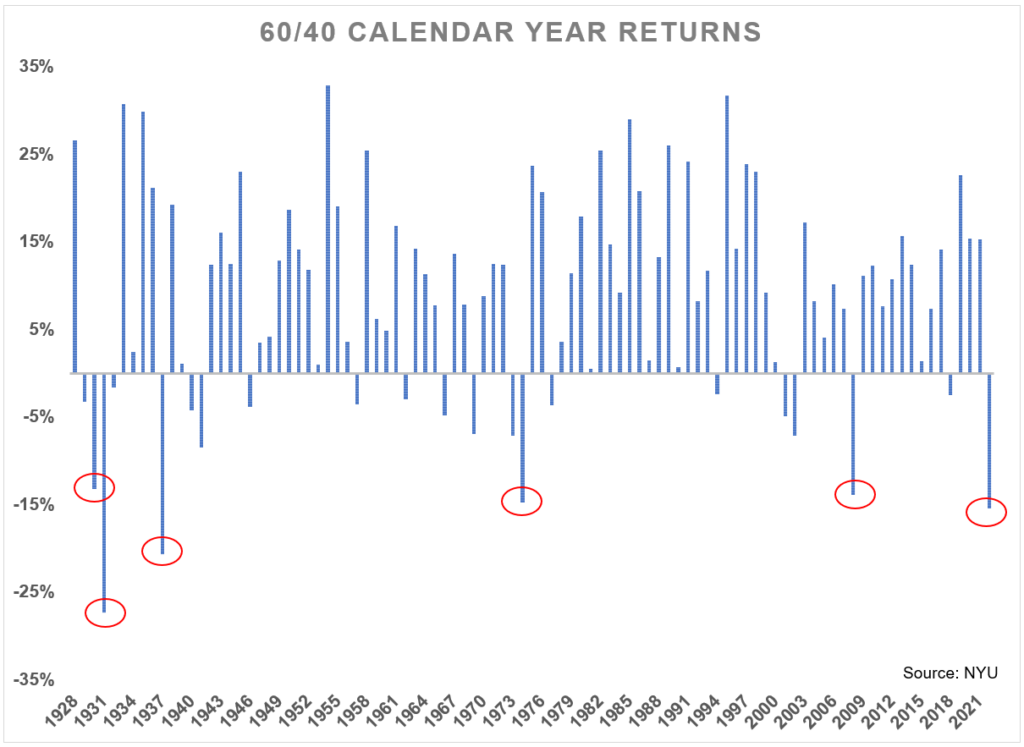 Sporadic down markets are the tax on wealth creation.
Looking at temporary setbacks in this manner makes us appreciate all we have accomplished.
This attitude applies to other unpleasant tasks.
Soreness after a workout is a tax on muscle growth.
Colleagues constantly asking you questions is a tax on your expertise.
Your kids clamoring for your attention is a tax on your parenting skills.
FOMO is a tax on disciplined health-inducing sleeping habits. 
Saying goodbye is a tax on visiting loved ones. 
Some taxes are symptoms of windfalls, not burdens.
They're only assigned to those who can afford to pay them.
Consider yourself lucky if you fall into this category.