The college admissions process is a meat grinder.
The lack of transparency in pricing is borderline criminal.
Imagine making a family purchase second only to your home with little or no information on the final cost?
School guidance counselors aren't required to take any courses on paying for college.
The Certified Financial planner curriculum contains 1.8 pages devoted to this subject.
Saving and paying for college are poles apart.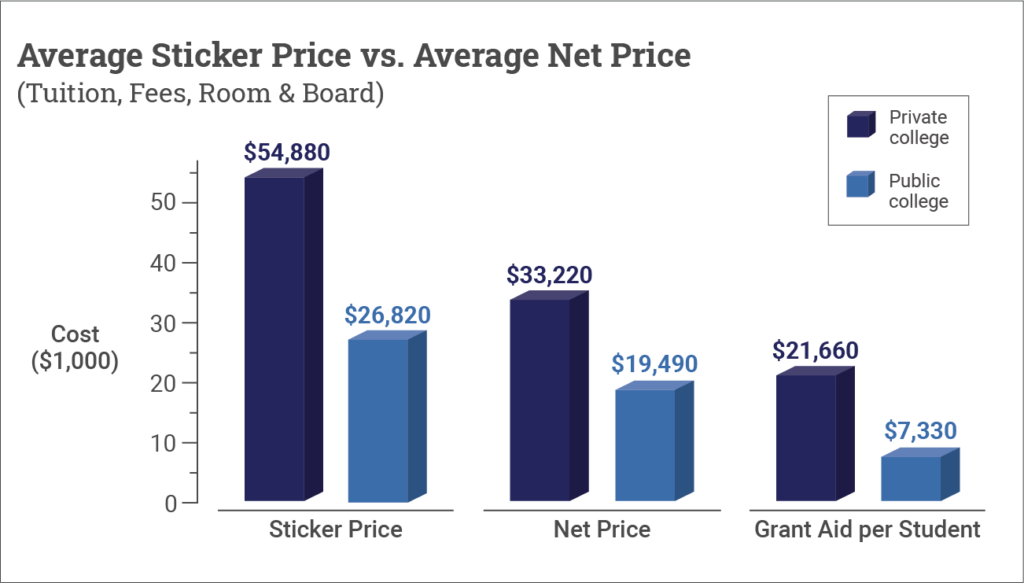 Source: College Data
Is it surprising student loan debt has eclipsed one trillion dollars?
Families need help deciphering admissions hieroglyphics.
Here's an attempt to clear up some common misconceptions.
Colleges are priced akin to airline tickets. Discounts proliferate at all but the most elite schools. The majority struggle to fill their freshman class. It's a buyer's market.
Use leverage to lower costs. Appeal to schools for more aid. (They don't like the term negotiate.) Increase your chances of success by providing competing award letters. You might be surprised with your results.
Fill out the FAFSA. Don't listen to friends and neighbors. Direct student loans with the best terms are available to all families regardless of income. The only students ineligible are those who don't fill out the form.
Focus on schools that provide aid through grants, not loans. Almost every school provides merit aid. Don't waste time looking for small one-off private scholarships. Research schools that offer solid four-year discounts.
Early action applications are usually a better idea than early decisions. The early decision limits negotiating power and flexibility. Don't lock yourself into accepting inferior offers. Control the admissions process; don't let it control you.
Don't borrow more money than a student's expected first-year salary. Social work is a great career—attaching the degree to $150,000 of student loans doesn't make sense.
Apply to out-of-state schools. Over 90% of applicants end up in colleges within 500 miles of their home. Dare to be different. Schools love diverse student bodies. Some schools offer some terrific enticements to draw in more out-of-state applicants.
 Shielding assets is an inferior strategy to finding the right financial fit school. Don't let unscrupulous insurance agents sell you policies supposedly designed to increase financial aid. FAFSA doesn't include whole life policies in the calculations, and expensive private schools count them against you.
Nearly all elite schools provide 100% of financial need to qualified students from low-income families. Don't let the hefty price tag frighten you if you're in this position.
Most schools love wealthy students. They would rather give $10,000 to four wealthy families than $40,000 to a needy one. Always remember colleges are a business.
That's just a start. If you're interested in learning more, feel free to reach out.  In the meantime, check out my appearance with Ben Carlson on The Compound. We discuss some of these issues and a lot more.