The misinformation virus infects society on many different levels.
What makes you think college planning isn't part of its death grip?
There's no place more contaminated than the Free Application for Federal Student Aid. (FAFSA)
About 25% of eligible families don't fill out the FAFSA, forfeiting over $2.6 BILLION in free aid.
The current trend is disturbing.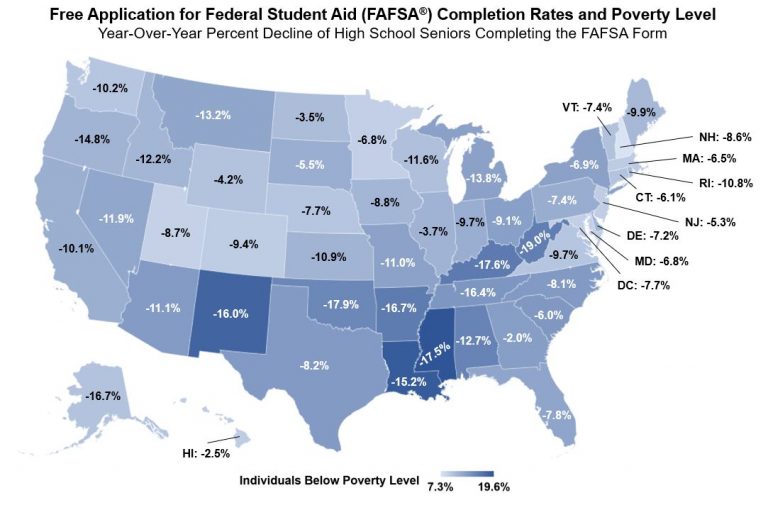 Sources: U.S. Census Bureau, U.S Department of Education Office of Federal Student Aid. 
Wealthier families fall prey to misconceptions about the complicated process.
The biggest excuse for not applying – "We make too much  to get any money."
Call this the Anti -Vax movement of college planning.
The consequences are widespread.
Not filling out FAFSA declares families ineligible for the Federal Direct Student Loans. These loans offer the best terms, are only in the student's name, and are not dependent on a credit check or income level. Debt management is vital for college planning. Ignore this at your peril, especially if graduate school is on the radar.
Students Expected Family Contribution (EFC) might be too high for state schools, disqualifying them from need-based aid. Private schools are more expensive, and your eligibility status may differ. Aid is a moot point if you don't fill out FAFSA. You won't receive a dime.
Parent Plus Loans are a popular method to pay for school: No FAFSA, no Parent Plus for you!
Millionaires are eligible for merit-based aid. The majority of private schools hand them out liberally. Some schools require FAFSA for eligibility.
Your family's financial situation may change during the year due to unforeseen events. Unemployment or severe illness don't give a crap your kids in college. Filling out the FAFSA makes an adjustment in aid distribution considerably more user-friendly.
The college aid race starts today.
October 1st is the first day parents may begin filling out the FAFSA. For many schools, it's first-come, first-serve. State schools with budgetary constraints run out of funds quickly.
Having twin sons who are college freshmen, we'll be logging on with you.
Yes, this form is needlessly complicated, with over one hundred questions. (Thankfully, changes are coming in 2024-25.)
It's a pain in the ass that will likely take over an hour to fill out.
Is that a good enough excuse for possibly forfeiting tens of thousands of dollars in college aid?
If the answer is yes, I can't help you.
Most would agree this is worth the opportunity cost of watching an additional hour of television.
What if I told you that your chances of acceptance and additional private merit aid could increase if you have the money to pay?
It's true but let's save that for a future post.
The bottom line – Don't listen to friends and neighbors.
Getting advice from the misinformed on a potential $300,000+ expense isn't recommended.
College saving and spending are two entirely different animals.
Our evidence-based college planning program provides a perfect solution.
If you would like to learn more, reach out to me right here.