Health and wealth are the Siamese twins of a successful retirement plan.
Is it possible to have too much of both?
Maybe
Excess exercise harms more than it helps.
Toxic fitness cultures exemplify this.
HUFFPOST provides a user guide to this sub-culture. Here are some items to look out for.
The promotion of fitness for the sole purpose of weight loss.
The belief that "fit" has a look.
Personal trainers are unwilling or unable to modify exercises that support your unique body.
The belief that you're not working hard enough if you haven't achieved thinness.
Personal trainers who aren't registered dietitians giving diet advice.
Personal trainers who don't believe you need to stop and encourage you to push through the pain.
The belief that beating your body up makes for a good workout.
If you think you fall into this category, you need to ask yourself some questions.
What would happen if I didn't exercise for a week?
Am I flexible about when and how I exercise?
Do I only count certain types of movement as exercise?
Serious disorders may result from inflexible beliefs. Anorexia Athletica involves focusing your whole life around exercise and constantly pushing the limits of your endurance.
Exercise Bulimia incorporates binging and then making up for it by frantically exercising.
These are dangerous afflictions. Please seek professional help if this describes your behavior.
This brings us to Super-Savers.
Like obsessive exercise, saving too much does more harm than good.
We're not speaking about people putting away 15-20% of income, living below their means, and not keeping up with the Joneses.
Our concern is with those needlessly depriving themselves and others of life's pleasures though they could easily afford joy-inducing indulgences.
Large Nest Eggs weren't designed to ruin your quality of life.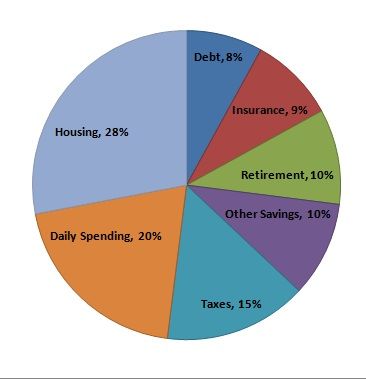 Source: mydollarplan
Let's call it – Toxic Savings Culture.
Over-funded rainy day accounts can sometimes be a curse.
The membership requirements are listed below.
Do you exhibit these behaviors?
Buying crappy food because it's cheap and refusing to spend a few extra bucks for something nutritious and healthy.
Holding back purchasing small treats like Starbucks. 
Not filling prescription drug prescriptions.
Ignoring charitable donations.
Putting off family vacations that provide invaluable memories and happiness.
Letting political partisans scare you into a needless austerity program. 
Not visiting close friends or relatives.
Working at a job, you hate longer than necessary.
Living in an unsafe neighborhood for tax benefits.
Not hiring a competent personal trainer/nutritionist though it would greatly benefit your life quality.
Refusing to upgrade airline tickets though this makes the trip extremely uncomfortable, unhealthy, and deters you from future visits.
Individual circumstances and experiences shape our attitudes toward savings. These habits, no matter how destructive, are difficult to break.
This is a no-judgment zone. If you're loving living an uber-frugal lifestyle, that's great. If not, it's time to reconsider your savings and spending habits.
This requires an attitude adjustment.
Thinking of money as a ticket to purchase happiness instead of a pile that needs to grow larger is the first step.
There are much worse things in life than living rich and dying poor.