Every crisis serves a breeding ground for heroes.
This one's no different.
Media images of people fighting over toilet paper and hoarding medical supplies are rampant.
Charlie Bilello comments,  "but there will still be those who say that if they don't hoard and everyone else does, they'll be left with nothing."
Nothing more than polite looters.
The loudest voices are heard the most but there's something brewing beneath the surface.
Humanity is rising to the occasion.
Italian medical personnel are an example of the best we have to offer.
Though physically and emotionally exhausted, they refuse to give up. Extraordinary times call for extraordinary people.
According to The New York Times, they're holding Italy together like the brave R.A.F. pilots defending their island against the Nazi Blitz during the Battle Of Britain.
Never was so much been owed by so many to so few. Winston Churchill understood their sacrifice more than anyone.
The same can be said for Italian Doctors and Nurses.
"We are on our last legs, physically and physiologically," Francesca Mangiatordi, a colleague who took the picture said on Italian television on Wednesday, urging people to protect themselves to avoid spreading the virus. "Otherwise the situation will collapse, provided it hasn't already."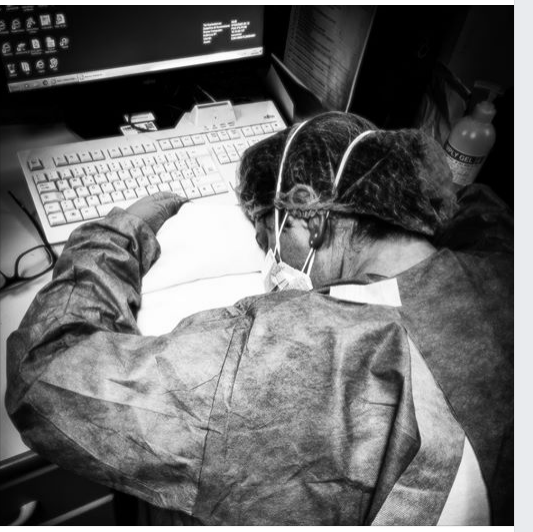 "This is a war," said Massimo Puoti, the head of infectious medicine at Milan's Niguarda hospital, one of the largest in Lombardy, the northern Italian region at the heart of the country's coronavirus epidemic.
Dina and I have dozens of relatives currently under quarantine in Milan and Trento. Completely confined to their homes in an atmosphere of Martial Law. Our cousin's elderly father passed away due to natural causes. But given the pandemic, everyone dying in the hospital, is forced to do so alone with no relatives to provide comfort.
Per the Wall Street Journal, "The most devastating part is that they are dying alone," she said. "Families see the patient for the last time in the emergency room. The next time is at the mortuary."
Such a lonely death is hard to take, the nurse said: "It's not our culture. We're very connected here."
Despite their hardship, Italians will never lose their love of life and all that goes with it.  Our relatives have been checking on us to see how we've been doing!
Dina's cousin, Marco, celebrated his birthday last week. Quarantined with his family they shared a meal. Fortunately, his son, Martino is a trained chef. He could cook better blindfolded with both hands tied behind his back than most of us.
They've been sharing pictures and sending encouraging texts which gives me no doubt that we will get through this together.
I hope this made your day a little brighter.
L'Italia Risorgera!!
Italy will rise again.
And so shall we.
Let their shining example be our guiding spirit.
Be safe.
The sun will rise again.