Orson Welles almost scared America to death.
At 8 P.M. on October 30, 1938, Welles unleashed his version of hell upon a gullible American public. The 23-year-old Welles hosted a very popular CBS Radio program called Mercury Theatre on the Air. 
He produced adaptations of Dracula, The Count of Monte Cristo and other classics. This time was different. Welles decided to recreate H.G. Welles, The War of The Worlds. In the process, he made history for all the wrong reasons.
On that fateful night, many listeners tuned in missing the hosts' brief introduction of that evening's show. Here's where the fun began. Welles setting was the recreation of a fictional news broadcast describing an invasion from Mars. You can see where this is leading.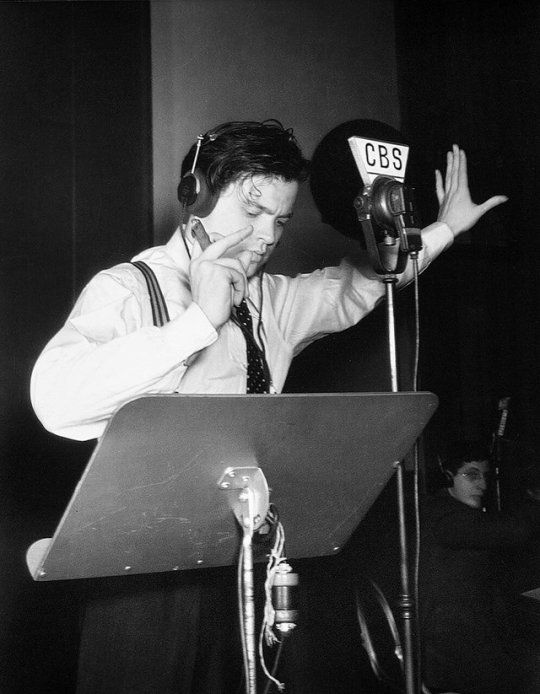 Things quickly spun out control.
The broadcast began with a report from an Illinois Observatory. A professor reported a series of several explosions occurring at regular intervals on Mars.
Breaking news came in from New Jersey describing the landing of what appeared to be a meteor.
Welles went for the Jugular.
Suspense and tension heightening to panic, the radio network abandoned its dance music program for breathless reporting of an invasion from Mars, and of chaos in the streets as Americans tried to reach safety. The U.S. secretary of the interior addressed the "citizens of the nation in hopes that their resistance might aid "the preservation of human supremacy on this earth."
People lost their sh*t.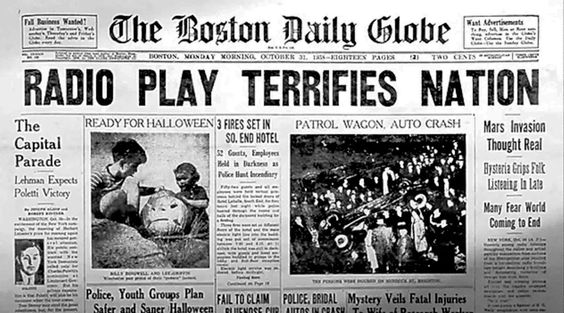 According to the "news" broadcast, The military took control of the airwaves. American cities, including New York, burned to the ground.
Petrified Americans absorbed the horror like a sponge.
"This may be the last broadcast…We'll stay here to the end."
"2X2L, calling CQ…New York. Isn't there anyone on the air?"
People rushed to churches for final salvation, My grandfather told me of New Jersey relatives running into the Holland Tunnel with their mattresses on their heads. I don't know what's scarier the idea of people doing things like this or I may possess remnants of this gene pool.
Welles refused to interrupt his broadcast. When told by a supervisor, "For God's sake, you're scaring people to death. Please interrupt and tell them its only a show!"
Welles replied, "What do you mean interrupt? They're scared? They're supposed to be scared. Now let me finish!"
A politician tried to break into the studio intending to stop the verbal carnage.
As a result of this fiasco, CBS Radio was sued for $12 million and Welles was forced into issuing an apology.
Welles defense, he was performing a public service. Raising American's awareness of propaganda during the age of radio.
His experiment was successful beyond his wildest dreams.
Americans didn't know what to believe anymore. News radio was thought to be gospel but now that myth was shattered.
In the past month, we've heard serious discussions about the beginnings of World War Three and the second coming of the Black Plague. Missle attacks in the Middle East and the Coronavirus are serious matters but really? C'mon people.
My colleague Michael Batnick created this chart. We can add Coronavirus to the list.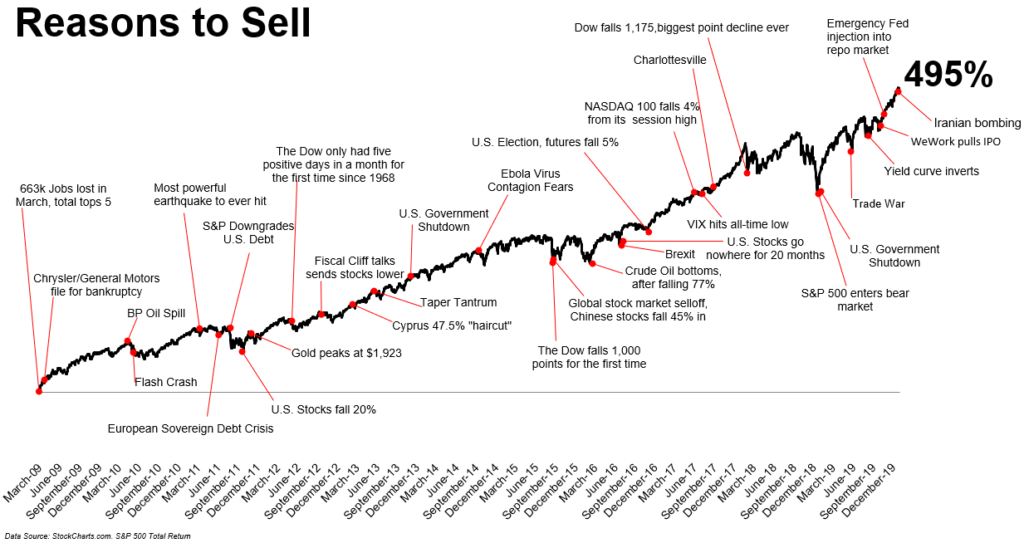 Batnick states,
This reminded me of something Bill Gates said: "Headlines, in a way, are what mislead you, because bad news is a headline, and gradual improvement is not…You would think that keeping up with the market is as simple as buying an index fund and leaving it alone. And it is that simple, but it isn't that easy, because bad news smashes your face against an amplifier, while good news just plays quietly in the background."
Have investors reactions to the unexpected come that far from Welles' infamous 1938 broadcast? We constantly see people doing the equivalent of putting their mattresses on their backs and running like a deranged orangutan into the darkness of the Holland Tunnel.  Emotionally Selling their stocks during the worst possible times
When does the temporary feel-good behaviour stop?
Think of a troubled soul who needs self-medication with drugs or alcohol to cope with life.  Things start out harmless but end up escalating very quickly into a nightmare of epic proportions. The irreversible power of compounding is an unstoppable Tsunami
The same destructive forces unleashed on your portfolio provides an equally devastating effect.  No financial plan can withstand selling stocks to every real or imagined global threat.
Keep this in mind the next time your listening to the prophets of doom on social media.
In the end, just like Welles' War of the Worlds, it all might be one big lie specifically designed to terrify you.
Cheer Up –  monitoring your portfolio is the last thing you need to worry about during an alien invasion.
Source: These Truths, by Jill Lepore