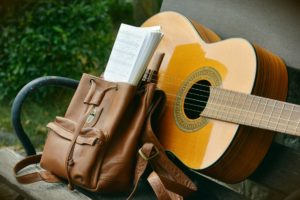 Our son considered his course options for next year. His dilemma was how to meet the visual arts requirement; art classes interest him like watching paint peel. We suggested a digital photography class.
"I hear it's a lot of work!" he said, "It's not easy, you have to know about camera settings – you don't just go off and use the camera."
I started to scold him that he was being lazy and not challenging himself, but the truth is I remember looking for the easy way out to classes that didn't interest me.
In spite of my efforts, I can't make him care.
I'm not sure exactly when my perspective changed but it energizes me to try things that I haven't been good at. At my age, maybe failing to learn something new terrifies me more than trying and failing.
Just a year ago, I started taking guitar lessons. I had played the violin (badly) in elementary school and, back then, I had quickly learned that reading music took too long. My ear was fairly good and I thought that I was smarter than everyone else who toiled to read the notes when I could sound these simple tunes out rather quickly.
The trouble was, of course, the songs didn't stay simple. My ear wasn't prepared to keep up with the complexities of the music the orchestra had started to play. I sat there bewildered, fake-playing, knowing I was an imposter. I couldn't catch up with everyone else – they had blown past me. There was only so far my short-cut could take me; it turns out I ended up getting nowhere fast, and I quit.
As I sat down for my first guitar lesson, my teacher asked what my goals were. I told him that reading music was something I wanted to do. Sure, I knew FACE for the space notes and Every Good Boy Deserves Fudge for the line notes, but I wanted to read the actual notes and play fluidly.
Unbeknownst to me, most guitar players do not read music and my teacher was thrilled to find someone who actually wanted to learn. I have stumbled around doing this, especially since learning to move the pinky and ring fingers independently takes all of my concentration at times. It's one big brain multi-task exercise to read the music, move the fingers into the right positions, and strum in time.
I'm not very good, but I have made progress; in learning, there is no substitute for effort, patience and persistence. My ear has sharpened; how I listen to music has developed and my perspective is certainly wider.
When I hear people say they are not good with personal finance, I know it is a quick dismissal given without much effort or thought. Unlike playing the guitar, it matters if you are not good at this – it will impact your relationships; trap you in a job you detest but can't afford to leave; limit the colleges your children can attend; and may mean you will work into your seventies just to make ends meet.
Ignorance will make you an easy mark for unscrupulous financial salespeople who will separate you from your money very easily. They will overcharge you and sell you unnecessary and expensive products that will rob you of precious time to reach your goals – and you won't even realize it.
In fact, you'll call him a "nice guy" and recommend him to others equally as disinterested in personal finance as you are; infecting some other poor unsuspecting souls.
You will be at the mercy of a stranger; simply hoping he will do right by you.
If you don't care about your money, who will?
I wouldn't count on the friendly neighborhood broker or insurance rep who is looking to qualify for a sales contest to Hawaii or Italy. (Yes, this really happens.)
I can't make you care.
If you won't pay attention, at least make sure that you haven't hired a fox to guard your financial hen house. A fee-only fiduciary is the only way to go; you need someone to look at your options as if they were sitting in your shoes. That's the best you can hope for.
The CFP board has a directory of planners – just make sure that the person you work with is strictly fee-only; fee-based is NOT the same thing – these professionals can earn commissions for selling product (which usually proves more beneficial to the person selling, not buying). This subtlety is something you wouldn't notice unless you knew to take note.
The one thing you must pay attention to is who you allow to call your shots.
Ask yourself: What's in it for them?
This is one homework assignment you can't cop out of; you must do it yourself unless you want your short-cut to turn into a painful and expensive lesson that offers no refunds.