Overcoming seemingly insurmountable obstacles are what defines us.
Some are more challenging than others.
When cancer patients defeat the monster, they ring a bell signifying their victory.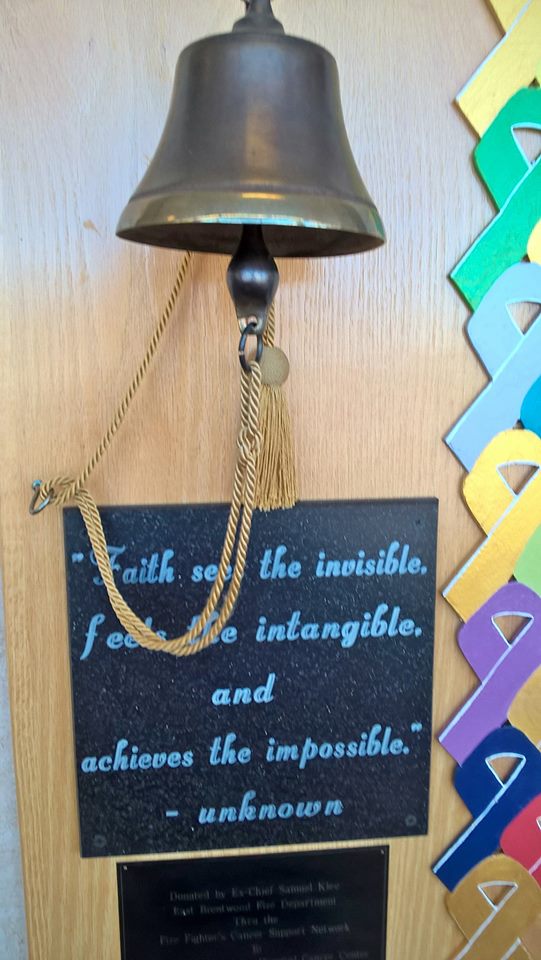 This includes little kids.
Pediatric cancer is every parent's worst nightmare.
Yesterday I brought my son, Joe to his checkup. In fourth grade, he was diagnosed with stage 2 Hodgkins Lymphoma. Less than 1% of children are stricken with this terrible disease. In a sense, he was one of the lucky ones.
I say that because this form of cancer is very treatable. For others we encountered on this journey, that is sadly not the case. This did not lessen the trauma our family endured.
Dina usually brings him. Seeing little bald kids hooked up to their chemo stations is a sight I know far too well. Selfishly, I try to avoid this if at all possible.
A little while back, we aware asked to do a video for Stony Brook's Children's Hospital. This was for the benefit of their major donors. I put on my jacket and tie and went to the studio.
When it came time for me to speak. I just couldn't do it. Too much bad stuff was burned into my soul. I felt embarrassed and weak. I was not ready to ring my bell.
The second worst day of my life was when we received the diagnosis.
The worst was when had to tell Joe and his twin brother Anthony it had returned. By the grace of God, the test turned out to be a false positive. That day will haunt me for the rest of my life.
Make-A-Wish documented our families journey here. A professional videographer named Adam Forgione did a masterful job. We were at first hesitant by this intrusion into our privacy.  The idea was to raise awareness for the wonderful things Make-A-Wish does for kids.
We eventually agreed.
Second, to the nurses, doctors, and social workers who literally perform daily miracles in pediatric cancer wards, Make-A-Wish is doing God's work. Everything else pales in comparison.
What does this have to do with financial planning?
More than you think.
We were speaking to longtime clients yesterday about their financial plan. Even though their situation keeps getting better and better, one spouse cannot stop worrying. Yesterday I told him, "My job is to make sure you enjoy the blessings you have. Go on trips, sponsor family vacations, pay your grandchildren's tuition, and give money to charity. Enjoy what is left of your life to the fullest. I give you complete permission."
I didn't stop there.
"I consider myself a complete and total failure as a financial advisor if you don't listen to me. I don't care how many millions you have if you can't enjoy it and spread the wealth, nothing else matters."
I certainly got their attention. Proving again, personal finance is more personal than finance.
I want our clients to ring their own bell. Conquering their fears and overcoming any obstacles that will prevent them from living life to the fullest.
We never know when life's train ride will come to an abrupt end.
I learned so much from my son Joe. We will never forget all of the people who supported us during this dark period.
We want to bring just a little of this to our clients. Failure is not an option for them, or us.
Joe has already passed his biggest test.
My one wish is that every child stricken with this horrible disease gets to ring their own bell.