"Two possibilities exist: either we are alone in the universe or we are not. Both are equally terrifying."  – Arthur C. Clarke
Does outer space provide the answers to our most pressing questions about investing?
China thinks so, along with everything else.
The Chinese have built the largest radio dish in the world. China's creation is twice as large as the American version. Its width measures five football fields. It is deep enough to hold two bowls of rice for every human being on our planet.
The purpose of China's creation is simultaneously unique and terrifying. According to Ross Andersen's article, "What Happens If China Makes First Contact?"  (The Atlantic), "The dish is Earth's first flagship observatory custom built to listen for a message from an extraterrestrial intelligence. If such a sign comes down from the heavens during the next decade, China may well hear it first."
In other words, if anyone is ever going to communicate with E.T., my bet is on the Chinese.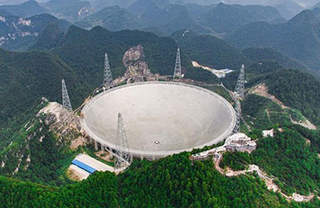 If this investment pays off, it will be a game-changer. China would have sole access to literally out of this world alien technology. It could make them Lord of Planet Earth or destroy us all.  Nice.
Many scientists believe no civilization should ever announce its presence to the cosmos; the reason being is something called the "dark forest theory."
According to Anderson, this can be defined as:
"Any other civilization that learns of its existence will perceive it as a threat to expand – as all civilizations do, eliminating their competitors until they encounter one with superior technology and are themselves eliminated. This grim cosmic outlook is called dark forest theory, because it conceives of every civilization in the universe as a hunter hiding in a moonless woodland, listening for the first rustlings of a rival."
Game over.
The legendary Chinese science fiction writer, Cixin Liu, expands on this theory in the first part of his classic trilogy The Three Body Problem.
In the novel, Chinese scientists send a message to alien life forms that may exist somewhere in deep space. Part of the transmission includes this message:
"We extend our best wishes to you, inhabitants of another world … Our world is flawed, hate exists, as does prejudice and war…because of conflicts between the forces of production and the relations of production, wealth distribution is extremely uneven, and large portions of humanity live in poverty and misery … With the best of intentions, we look forward to establishing contact with other civilized societies in the universe. We look forward to working together with you to build a better life in this vast universe."  
As you may have already guessed, the aliens don't have the same definition of "cooperation."
In a moment of extreme shallowness, I thought: What snarky questions might I want to be answered by omnipotent aliens? After all, if we could actually contact all-knowing extra-terrestrials why not get some answers to some eternal finance riddles and make a little money before things go to hell. Their space fleet probably will not arrive for a few centuries; plenty of time to still have some fun before mass enslavement and genocide.
My intergalactic communique would include the following:
Where are the customer's yachts?
What is the best level to short Long Island Iced Tea Blockchain Corp.?
Will really smart people ever learn to stop trying to "beat the market" and do something more constructive with their lives?
Why are most people in finance so grossly overpaid in their relation to their net positive contributions to society?
Why is it harder to be certified as a hairdresser than a financial advisor?
Will Harry Dent ever be right?
Are investors better off using astrology than the forecasts of financial pundits? (The aliens might have some inside dope on this.)
Who swindles more people out of their money, annuity peddlers or timeshare salesmen?
Where exactly is "the cash on the sidelines" located?
Will "great investor" morning routines ever include eating Dunkin' Donuts and watching Fox and Friends?
When will whole-life insurance policy illustrations be re-classified as fiction?
Why are there five times as many bald white men at investment conferences than female advisors? (On the bright side, the lines to the ladies room are amazingly short.)
Will regulators eventually merge with giant financial firms in order to eliminate the middleman?
You may laugh at the infinitesimally small possibility of encountering space people, but these two Navy Airmen beg to differ.
Few doubt only a higher life form could clean up the mess that is our current model for distributing financial advice and products.
Let's hope that when the aliens do arrive, they won't decide the destruction of the human race is a fair punishment.
 Sources The Atlantic, "What Happens If China Makes First Contact" by Ross Andersen;  The Three-Body Problem by Cixin Liu.