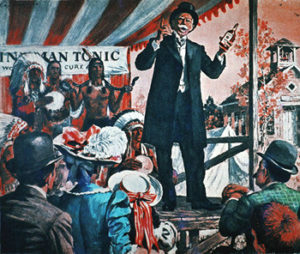 Selling should not be defined as persuading. Talking people into buying things that they do not need adds no value.  Selling should be construed as determining a fit between the buyer's need and the seller's supply; the key word being need.
Once a good match is determined, then the job is to facilitate the next step. Here comes the hard part. Sometimes the right thing to do for both parties is to part ways. It may be best for the salesperson to send the potential client to someone else. They may not offer what the client really needs.
Good luck with that. In a commission-based model, which includes things like monthly quotas, the salesperson's incentive is to fit the proverbial square peg into a round hole. "So what if you are 75 years old and in ill health? You need this variable annuity with a 15-year surrender charge."
It does not have to be this way. Becoming a respectful facilitator instead of a generic salesperson is a win/win proposition for all stakeholders. This requires selling ideas and advice, not product. Becoming a specialist is not an easy path to take but the payoff is well worth it.
According to The Win Without Pitching Manifesto, by Blair Enns, these three steps can replace the art of persuasion:
Help the unaware;
Inspire the interested; and
Reassure those who have formed intent.
Notice: Nowhere on this list is "chase people to sell them products that give YOU the highest commission." Key words like helping, inspiring and reassuring replace the obnoxious and aggressive sales mantra of "always be closing." Pitching people products they don't need is the antithesis of being a financial facilitator.
In fact, according to Enns, "The psychology of buying is the psychology of changing. Selling therefore is change management. The very best salespeople are respectful, selective facilitators of change. They help people move forward to solve their problems and capitalize on their opportunities."
This eliminates the cringe-worthy: "I'm going to be in the area and I'd like to come by to see you" moment.
Our firm is all about thought leadership and education, not unsolicited client persuasion. We turn people away all the time. Not because we enjoy it but because some investors are looking for something different than what we offer; as such, they are not the right fit for our investment philosophy. This is nothing personal and serves both parties well with the avoidance of much future heartache.
One way we locate a potential client is a through our writing.  Experts write.
We have many blogs which uniquely display our own various forms of expertise. Josh, Barry, Ben, and Mike are constantly churning out great stuff.  These blogs do two important things to show our value as change managers, rather than salespeople:
We are able to establish relationships with potential clients before even meeting them. Our thought leadership may identify a problem that these individuals have been grappling with or point out one they did not even know they had.
We may help these people see the opportunity to solve their individual financial problems and, importantly, inspire them to take action.
Most people who read our blogs do not become clients. That's just the law of averages.  The good thing is even if you are not a perfect fit for us; we provide tons of free material to help you avoid the most egregious of financial mistakes. We make the financial world a better place and that should count for something.
If you feel your investments are not matching your values or goals, don't like the commission-based model, or think comprehensive fiduciary financial planning is in your best interest, give us a shout.
We would love to work together with you to see if we are a mutually a good match. We don't advertise or even have a marketing budget. These things are not a fit for our culture.
We prefer to "sell" knowledge and take our chances.
Chasing people to push a product is so yesterday.
Inspiration is something that we must save for the interested.
Source: The Win Without Pitching Manifesto by Blair Enns