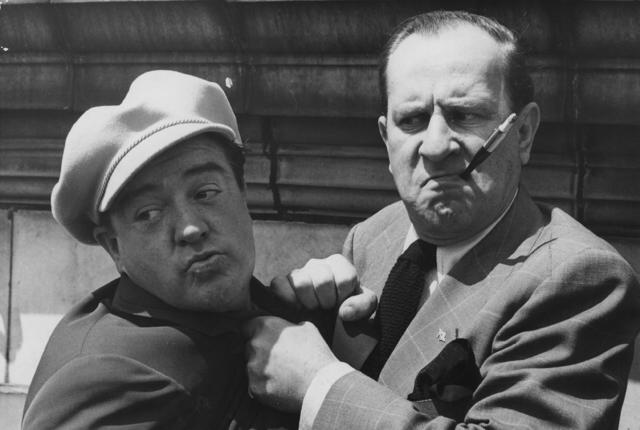 In honor of the opening of  the 2017 Major League Baseball season,  Abbot and Costello's classic 1938 comedy bit "Who's on First" has been revised to  fit the 2017 standard of conflicted financial advice. Since this is the season where "hope springs eternal," why not add the current state of financial services to this period when 30 teams have dreams of a trip to the World Series dancing in their heads?
The difference is there is little cause for optimism for retail investors currently being fleeced by conflicted financial salespeople. The only trips anyone here will be going on are the winners of the "highest producer contest for expensive and unnecessary financial products, all-inclusive Turks and Caicos vacation." Specifically, Mr. Who Wouldgivethisguy$, Certified Retirement Specialist.
(The classic comedy duo has been replaced with Wall Street nemesis, Massachusetts Senator Elizabeth Warren and the fictional retail investor Clint Clueless).
Senator Warren: Well then, who's your financial advisor?
Clueless: Yes.
Senator Warren: What is the guy's name that put that expensive variable annuity in your IRA after you attended that "free" dinner and he did not tell you that you would be paying twice for the benefits of tax deferral?
Clueless: Who.
Senator Warren: Who is the guy that won a trip to Tahiti for selling you that non-public REIT and received a 7% commission?
Clueless: Who.
Senator Warren: Who put you in that Unit Investment Trust that he rolls over every two years and receives a 5% commission on each occasion?
Clueless: Who is my advisor.
Senator Warren: I am asking you who is the guy that recommended you buy that triple leveraged gold ETF in 2010 because the Federal Reserve was printing so much money that he was 100% certain that hyper-inflation would arrive in a matter of days?
Clueless: That's the man's name.
Senator Warren: That is your advisor's name?
Clueless: Yes.
Senator Warren:(Exasperated) When you pay the sales charges, 12b-1 fees, surrender penalties, and trading commissions that have left your account at the same level it was a decade ago, who gets the money?
Clueless: Yes, every damn penny!