Embrace change. It's all that there is.
Continuity is an illusion.
Financial markets are the epitome of this type of thinking. Investors constantly attempt to will their delusions into reality. Not surprisingly, their attempts fail every time.
It's impossible because nothing is permanent. The good and bad times both own expiration dates beyond anyone's control. Stop viewing change as abnormal and shocking. It's just the opposite. The best thing an investor can do at these moments is view stability as the outlier. Doing this changes the narrative in your favor.
Taking the hyperbole out of the bold red-lettered catchphrase – Markets In Turmoil. Looking at a chair with an Electron Microscope, one only sees space. The same with the markets. They're always in flux. Some are more fluxier than others.
My colleague Michael Batnick wrote a terrific post about the twenty lessons learned from this Bear Market. They're all insightful, but nineteen of them are supporting characters.
Nothing lasts forever. When growth stocks were going up every day, it felt like it would never end. Now that growth stocks are going down, it feels like it will never end. Everything ends, eventually.
That's it.
Interest rates, sentiment, investment fads, inflation, leverage, risk, etc., all fall under this broad umbrella.
Understanding this vital lesson keeps you sane in tumultuous times and prevents unforced errors.
None of this is easy. Anything worthwhile takes many reps before it's ingrained into muscle memory.
Try it and see where it takes you. If it doesn't work, no harm, no foul.
The alternative – continue wasting time on matters beyond your control and increasing stress levels that eventually make you sick.
Your call.
Instead of focusing on the contents of change, try focusing on the phenomena of change itself.
Start small. Watch a ball game, and instead of clinging to the score, pay attention to the flow.  Eliminate expectations. Expect nothing. See how you feel afterward.
Did this make you feel better not clinging to a fixed score with your favorite team on the winning or losing end?
Practicing the new paradigm on small matters with little consequence enables you to graduate to the big leagues.
Begin looking at your children and your body in the same manner. The more you normalize change, the less scary it becomes. It won't happen overnight, and you will still feel moments of terror.
Wouldn't your effort pay for itself and more if you lowered your fear of changing markets by 10%?
Even though we desperately desire it to be, the Stock Market is no different than anything else.
Nothings fixed. Bull markets arrive and pass. Bear markets burst onto the scene and eventually flame out, and so it goes. Change is your friend regarding the stock market. Bull markets last much longer.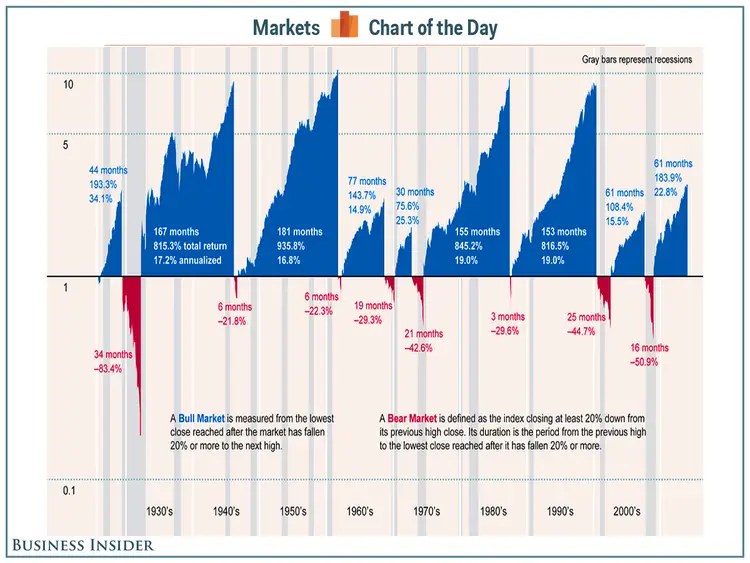 Zeroing in on the change rather than the content puts things in a rational and healthier perspective.
Instead of Infusing Why Me? If Only into your vocabulary, the tumult becomes strangely normal.
Change isn't easy to accept, but it's all there is.
Great minds remain unshaken by it.
Make the best of "Market Turmoil" by exploring this way of thinking.
As James Baldwin once said – Not everything that is faced can be changed, but nothing can be changed until it's faced.