Pandemics aren't gender-neutral.
A select few profited from stimulus juiced financial markets; others lost big time.
Topping the list  – Women.
Their finances suffering disproportionally to men.
According to the National Women's Law Center, women garnered 55% of the net 9.6 million pandemic layoffs.
Not including the hundreds of thousands forced to leave jobs taking care of their children when schools and daycare closed their doors.
Minority women bore the greatest wealth destruction. The unemployment rate for Black Females came in at 8.7% last month. Latina's face a 7.3% rate. These numbers tower over the nation's overall jobless rate of 6%.
The pandemic compounded injustices women historically face.
Numbers don't lie.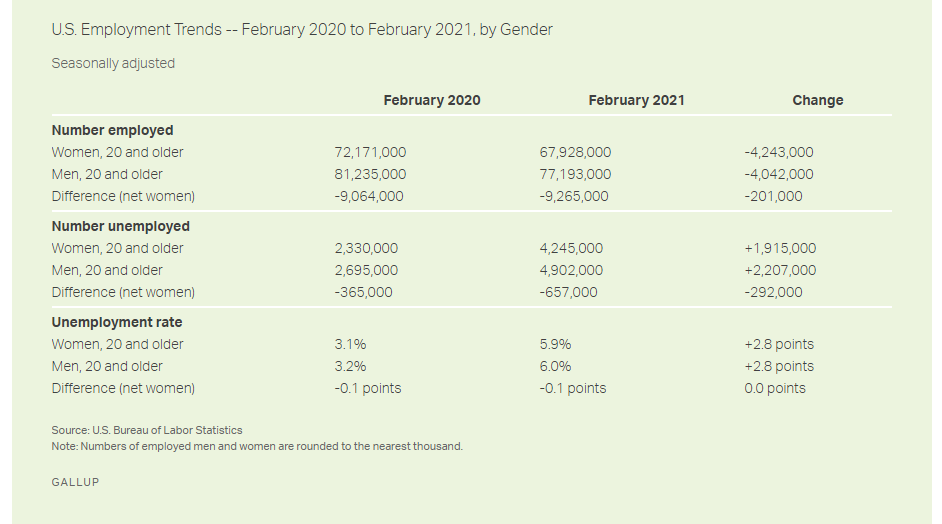 According to the Bureau of Labor Statistics, women make 82 cents each dollar men earn. For women of color, the gap becomes a chasm. Black women make 63 cents, and Latinas make just 55 cents of a man's salary.
Before the outbreak, 46% of working women aged 18-64 worked in low-wage jobs paying median earnings of $10.93 an hour. 37% of men worked in a similar capacity.
Again women of color suffer disproportionately, with 64% of Latina and 54% black women toiling in low-paying industries. This compares to 40% of white women.
In most families, women tend to be primary caretakers. When childcare closed, it became virtually impossible to have the dual responsibility of wage earner and chief nurturing officer.
The irony is paying for childcare is an excessive burden for many families.  The price is uneconomical; the money doesn't go to the mostly female employees.  19.3% of early childhood workers live under the federal poverty level, according to data from U.C. Berkeley.
The pandemics' effects on the retirement dreams of many women are devastating.
Before the lockdowns, women faced unique challenges saving for retirement compared to their male counterparts.
Many women never get a chance to earn higher salaries and gain valuable experience. These events coincide with their childbearing years.
This time away from the workforce leads to lower salaries and diminished 401(k)/403(b)  balances.
Unemployment during child-raising years severely dilutes the effects of compounding. It's time in the market, not timing the market that builds wealth.
Forty percent of retirees rely on Social Security as their prime source of retirement income.
The years' women are absent from the labor force dramatically reduces their monthly payments.
While stimulus checks help, this is a short-term solution for a long-term problem. Covid-19 greatly exacerbated the gender inequality existing before the first person was infected.
There's a silver lining to this pending disaster.  Sunlight is exposing prejudices women are facing daily in the workplace.
Policymakers need to step up to the plate and address these issues. The workplace for women is in desperate need of modernization. Issues like Work-life/balance and the cost of childcare are at the top of the list.
Rham Emanual once stated. " You never let a serious crisis go to waste."
Hopefully, the continuous She-Cession falls under this category.  The time for much-needed positive change for women in the workplace is now.
Hasn't the She-Cession gone on long enough?
Source: Facing A She-Cession by Victor Ocasio, Newsday