Insurance companies are trapping investors in escape room hell.
In escape rooms, participating players learn the value of teamwork. Working together discovering clues, solving puzzles, and accomplishing tasks is the objective.  Escaping in the shortest time possible is the top priority.
The problem with teachers 403(b) plans –  They aren't a game. Many educators are entangled in high-cost annuities and mutual funds with escape almost impossible.
Product designers guarantee this wasn't an accident.  Providers are experts at installing mind-twisting clues. Creating traps keeping teacher's money in high fee products is integral.  This financial sludge why over $10 Billion in unnecessary investment fees are siphoned from teachers accounts annually.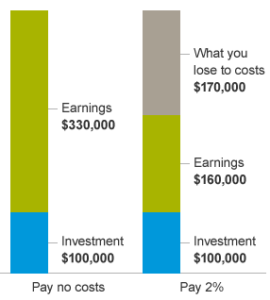 .
Based on investing $100,00 for 25 years earning 6%. Source: Vanguard
None of this is illegal, it's certainly morally questionable. Even if teachers decide to pay the ransom, I mean surrender fee, the next steps are daunting and confusing.
(Almost all teachers pay some sort of surrender fee because many products contain rolling surrender charges. This means it may take as long as five years from their last contribution before the fees disappear. Teachers can move 10% of their assets annually with no fees.)
This story ends with teachers giving up and letting financial inertia run its costly course. Adding Insult to injury, One of the nations largest provider's of teachers 403(b)'s recently piled on. Receiving desperate e-mails from exasperated teachers is nothing new to us.
He said the forms are unique to each account and the packet will be mailed to us out of their NJ office. Since we called later last night he said they'll probably go out tonight and we should hopefully get them next week. He said the official statement is that it could take 7-10 days and the forms are good for 90 days so if they're not processed by March we will have to call again and get new forms.
Wait…What?
7-10 days to get the forms? Are they using Johannes Gutenberg's Printing Press?
Live footage from the 403(b) administrator's account servicing headquarters… pic.twitter.com/O4s2pe6RhM

— Bill Winterberg CFP® (@BillWinterberg) December 13, 2019
Teachers with accounts over $50k not only must complete online transfer instructions but must also call the company so the insurer can send them the transfer forms in the MAIL! Snail mail became the default choice because The Pony Express no longer runs in most areas. They've created a mecca of interference.
What's next?
Blood samples?
Retinal scans?
DNA tests?
Insurers have trouble realizing the future is about creating low-cost products distributed by fiduciary advisors. They prefer practicing financial voter suppression. The East Germans tried this once by building a wall. We know how that ended.
Here are some of the worst  examples of financial sludge
Demanding a  Medallion signature guarantee, which requires finding a bank and paying a fee (normally this is used for the transfer of stock certificates or physical gold, not $50,000 403(b) accounts);
Making clients fill out confusing paperwork;
Sending out the wrong paperwork to clients and then taking weeks to tell clients they need to submit different paperwork;
Taking weeks to process the paperwork and then rejecting it because it was dated more than 30 days ago;
Employing surly and condescending phone reps who give misleading and conflicting information;
Using physical mail to send out forms instead of having them available on the firm's website or in PDF form;
Mailing physical checks rather than using wire transfers to move the assets to the new accounts;
Trying to convince clients to stay by lying with lines like, "there are no fees" and "everyone charges the same;"
Threatening "tax consequences" for normal tax-free exchanges; and
Creating duplicative forms designed to be a time suck.
Imagine a financially challenged public school teacher (or anybody else for that matter) navigating this by themselves?
"We are programmed to receive. You can check out any time you like but you can never leave."
"It's easy to sign up for an annuity. Escaping it, not so much. Hotel California is a great song but hardly conducive for creating an investor-friendly culture.
For most in this space, this is the standard operating procedure. Making investments simple to sign up for but perplexing to exit isn't a good look.
What are they afraid of?
I think we all know the answer.